Can Teachers See Your Screen On Zoom? All Questions Answered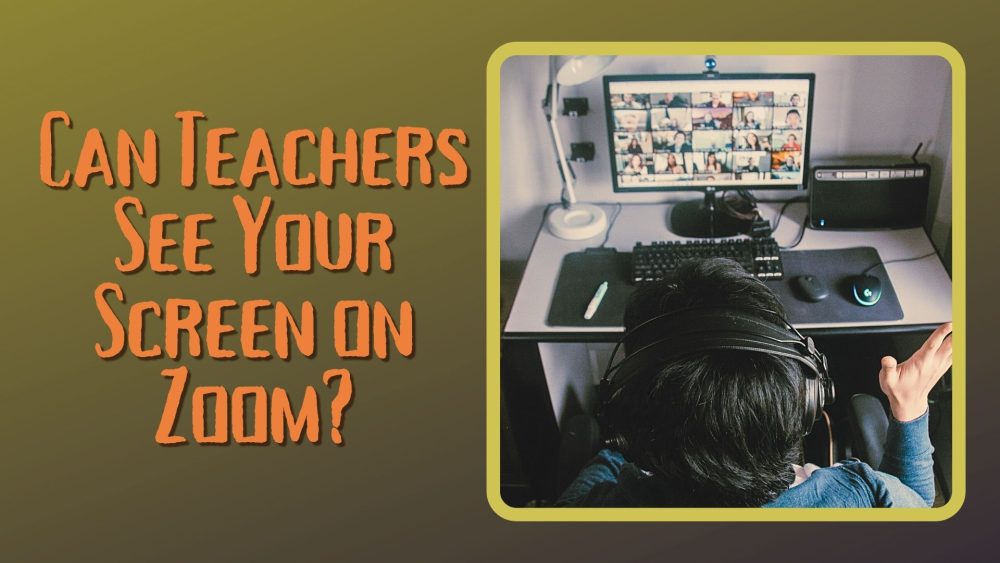 This is the question on the mind of most students. Ever since remote learning started and since Zoom has been used for classes, you may have wanted to know what your professors can and cannot see.
This is important because during classes, you may not pay total attention. You may be more attentive to Twitter or just chatting with your friends on Facebook. You may even be away from your laptop, which means you're online in class but far away at the other end of the laptop.
What can, and what can your teachers not see during an online class? This content will let you know what Zoom is, the basic functions, and how you can protect yourself from being seen without your consent.
The article will also let you know if a teacher is watching your computer and how to stop teachers from seeing your screen.
What Is Zoom And How Is It Used In A Classroom Setting?
The Zoom conferencing tool is a popular app used for virtual meetings or classes, amongst its other uses. Since COVID-19, many have used it for virtual meetings, remote office conferences, classes, even for corporate birthdays and sometimes, auditions.
Since the social distancing meant that you couldn't hold physical classes, schools found solace in Zoom. You can easily speak during the class, activate your webcam, and even record your sessions.
Zoom also allows the host to protect the virtual classroom with a password. The password is only given to you as students, which means uninvited persons stay uninvited. They can't access the class without the administrator's consent. You can also interact on Zoom, ask questions, and get into conversations with friends.
Tips On Major Settings And Functions On Your Zoom
There are different settings on your Zoom app. These are settings that make your app easy to use. These functions and settings also immerse you into the virtual reality world of remote learning, although not like Metaverse.
What are these settings and functions that improve your virtual learning experience on Zoon?
Audio Conferencing Feature
With Zoom, you can contribute to any discussion by simply activating your mic. You can also choose to stay silent and keep your mic on mute. You can use the feature on both your phone and laptop. As soon as you join a class, you are free to mute or unmute your mic. You're free to speak and participate in class or otherwise.
Video Feature
If you'd like to show your face to the class, this is where you do it. There is a setting that lets you activate your webcam. Activating your webcam makes you visible, and all your gestures are recorded. However, if you don't like showing your face in virtual classes, you can deactivate it. This is advisable if you are not well dressed. Of course, some don't mind. You can find skits of professionals in their shorts and a suit during meetings. Nobody finds out until they stand from their seat.
Instant Messaging Feature
Zoom makes it easy to communicate even without activating your mic or webcam. You can send your messages to friends and colleagues through the instant messaging in-app. Once you sign into a session, you can find other class members, click on their names, and start a private conversation. You can also send a general message to everyone. The general messaging feature is mostly used to share public information or ask a question. This feature is available on both mobile phones and laptops. It makes it easy to share information, jot notes, and keep track of every comment about class performance.
File-Sharing
There is a file-sharing button on the chatbox screen. This feature makes it convenient to share files during your class. Your teachers may like to share comprehensive material on a subject with you. This makes it easy to exchange files, read along with the teacher, and contribute effectively to the class. If the class is meant to treat your essay, you can also share the file or share your screen.
Screen Sharing
The screen sharing feature makes it easy to show what you're doing to other class members. As noted earlier, if the class is meant to treat your essay or paper, you can share your screen and keep your screen where the important information is. This also helps during a presentation, or collaboration with the class on a paper. You can share your screen on your laptop or mobile phone. However, the host can restrict you from sharing if they like.
Virtual Hand Raising
In a class where your college professor controls who speak or doesn't, raising your hand is the proper way to make the request to contribute in class. This way, Zoom helps university or college students avoid interruptions. The host will definitely see that you asked to speak, and you will be allowed to. See? Easy!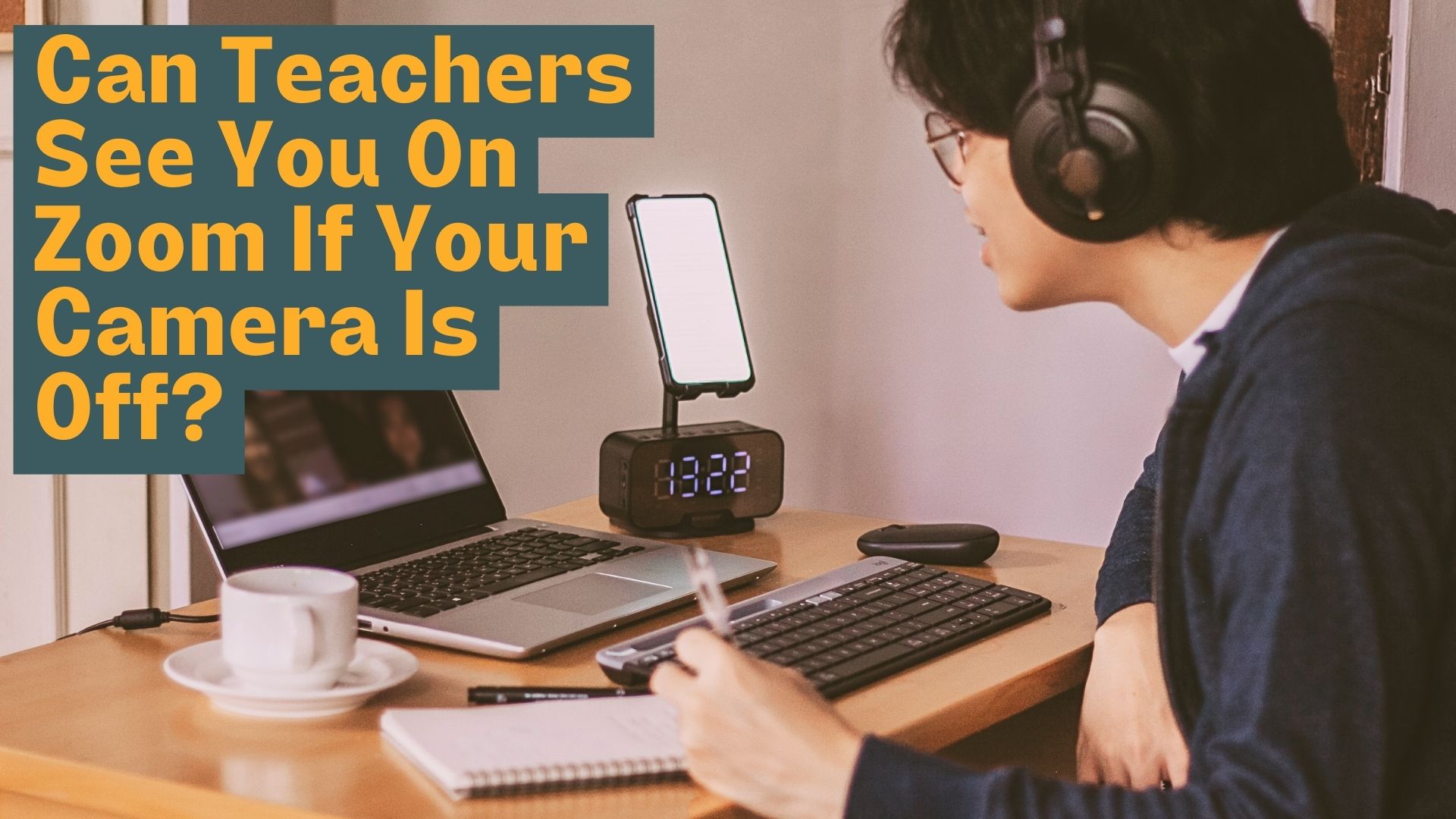 Can Teachers See You On Zoom If Your Camera Is Off?
Definitely No! Your teachers can't see you if your camera is off as Zoom isn't designed that way. This means that you can control what your teachers and colleagues know about you during the class.
However, if you're using your school's device for the class, it's possible that you will be unable to turn off your camera. This is because the school may have installed software that activates your camera immediately after you join the class. Your teacher may also control the webcam.
But if you're using your device, No, the teacher can't see your face when your camera is turned off.
Tips On How To Know If A Teacher Is Watching Your Computer
This may be complicated as, naturally, your teacher cannot see what you're watching on your computer during class as long you don't share your screen. However, if you are in a computer lab, your teacher may see what you are watching on your computer.
How do you find out? If you are using your school's device, you don't control the device functions. You don't control them because your school may have installed software to track your activities. Sometimes, they lock your computer to the taskbars they want you to access.
If you find yourself in this shoe, know that your screen is watched. You may find tiny icons underneath your windows to show that you're being watched. As long as your webcam is activated on a school device, your actions are monitored.
There is no policy against this since it is the school's property. Yes, if you think they are spying on you, that's what it is. But it is a legal kind of spying. It's not your device, after all.
If it's your device, there is no way your professors or teachers can spy on you except they hack you or gain access to your computer without your consent.
So, how to stop teachers from seeing your screen?
Experts say pressing "alt+tab" multiple times will hide the present window. On your Mac, press Command-Tab. Pressing these keyboard keys will help you hide a window and bring another one during laboratory exercises. This is effective when you're about to be caught to have lost attention.
Can Zoom Host See Your Screen Without Permission?
No! Your lecturers, hosts, or classmates cannot see your screen until you share it. As earlier stated, if you're using the school's device, your host may see your screen, especially if they have installed synchronous software on the device.
If you're using your personal device, there is no way they can see your screen if you do not share it. When you join a Zoom meeting, they can only see a picture of you if you set your Zoom profile.
They can also hear you only if you turn on your microphone. You are safe from being spied on if you don't do these.
How Does Zoom Attention Tracking Work?
The attention tracking feature was made to help a host know those who are concentrating and those who are not. Your host can use the indicator to see if you are more than 30 seconds away from the Zoom program in a class.
This means that if you share your screen and are away from the Zoom app, it notifies the host. The attention here is the app in focus. In other words, attention tracking only track your screen if your Zoom class program is open and you're sharing your screen.
The good thing is that you can disable this tracking feature on your side. However, the host or administrator may activate this feature by clicking on the "lock" icon, making it impossible to deactivate the attention tracking feature.
However, the CEO, Eric S. Yuan, said in 2020 that the attendee attention tracker feature had been removed. He claims that it is for the security and privacy of the app users during their sessions.
Do you see a lot of sense in this too?
Who Can See Private Messages on Zoom?
The person you're chatting with. No other person can access your private messages.
When you are chatting with a colleague on the private mode, only the colleague can see. It is as simple as taking your conversation from a WhatsApp group to a WhatsApp private chatbox.
However, it gets tricky when you're not using your device. Normally, your host, the teacher, cannot see your messages if there are no hacks into the device.
Someone else may see your private messages if you are using another person's device as your chats may be tracked. This is why you should limit what you discuss in the private chat during a class.
Can Zoom Admin See Your Screen?
Can an admin you see my screen when I do my work? Yes, and no. Yes, because if you share your screen, the administrator and every other person will see your screen. If you do not share your screen during the class, the admin or your classmates will not see your screen.
Zoom is an app that respects privacy. The developers consider the user, which is why you can control everything from your end. Just as your microphone cannot be unmuted without your consent, your screen cannot be monitored if you don't share it.
The only thing they see is the information you want them to see.
Get Online Class Help Today
Now that you know these cheat sheets for Zoom class and screen sharing, you can stop panicking when your Zoom class is about to start. You can read other materials or chat with friends during the class. This doesn't mean you should not pay attention in class. You can control what your teachers and colleagues see or know about what you do.
If you find the classroom boring, you may find doing your homework boring too. You may even have limited time to work on your assignments, as well as your classes. This is where you need homework writing services for professional writing help.
We are an academic writing service based online. You don't need to bother about "how do I do my homework" when you have us. We offer a wide array of services, from homework writing to online class help. There are professors, teachers, and excellent research students on our team. They create custom homework fast and at a cheap price.
FAQ
Can zoom hosts see your screen?
In a default setting, the zoom host cannot see their student's screen during a meeting. However, note that zoom has a feature known as Remote Control that allows the host to request the control of the participant screens.
Can teachers see your screen on your personal computer?
No, the teachers can't host Zoom meetings to see their personal computer screens. However, the teacher can request to see your screen, but you will have to permit them. Note that you will have to approve any monitoring or screen sharing.
How do you make it so your teacher can't see your screen?
You can turn off the screen-sharing feature if you do not want your teacher to see your screen. You can do this by clicking the green "Share Screen" button at the bottom of the Zoom meeting window. Then click the advance option.
Go to the share screen option
Click on the advanced sharing option
Choose only a host who can share
Uncheck the button that allows participants to share the screen