How To Write A College Admission Essay: Your Ultimate Guide 2023-24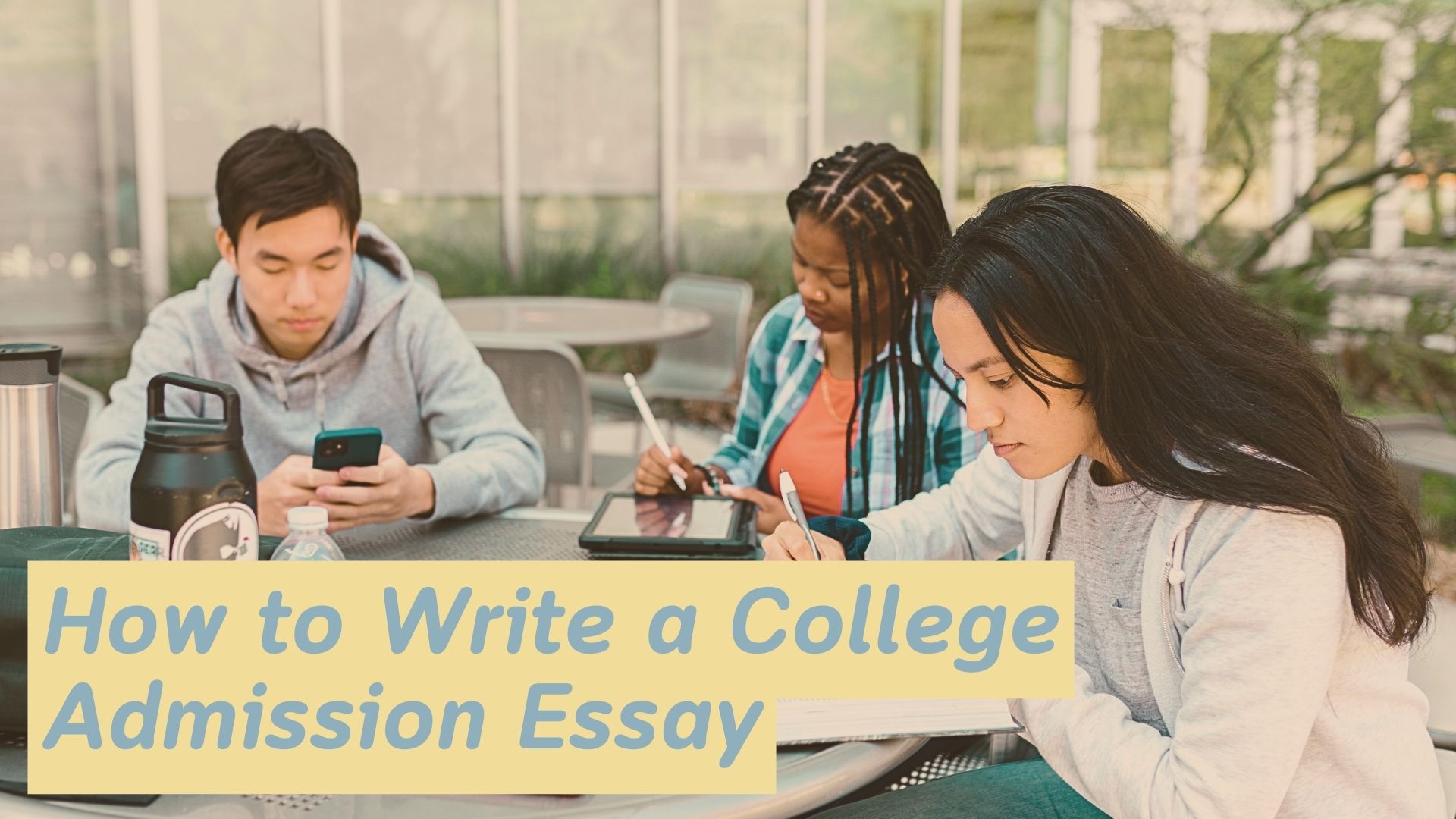 You've landed on this page because you want to know how to write an application essay for college. While applying for college admission is exciting, it requires extensive research, dedication, and hard work. A college admission essay is vital to the application and requires your time and attention. So, before writing your first draft, ensure you know what this write-up entails and why it's crucial.
Remember, this piece of writing may determine your future success. Therefore, how you present your goals, aspirations, and thoughts and highlight your achievements is crucial. Many students struggle to compose an impressive college admission essay. This article shares practical tips for college admission essay writing. It's vital because it helps you know what to include in your write-up and how to present it.
What Is A College Admission Essay?
A college admission or application essay is a personal statement that an applicant or prospective student writes as part of the application to a college, graduate school, or university.
This paper gives the admission board a glimpse into your thoughts and perception of the world. A stellar admission essay adds personal charm to the application, showcasing the student's unique attributes beyond transcripts and test scores.
Your essay can significantly enhance your admission chances by illustrating your personality, eagerness to join the college community, and commitment to learning, especially when your competitors have similar credentials. Moreover, you can use this paper to showcase your soft skills, including leadership, compassion, and creativity to impress the admission officers.
The goal of college admission essays is to help the admission committee to learn about you. Therefore, avoid recapping your academic accomplishments in this write-up. Instead, draw the admission officials' attention to your unique skills, strengths, and interests. Also, persuade them that you deserve to join their learning institution.
How To Write A College Admission Essay
College admission officials have many applications to read. Therefore, ensure the audience can easily read your paper while providing the most relevant personality details. Maybe you're wondering how many paragraphs should a college essay be. Usually, a good admission essay comprises 500 words. Always remember that these words mean the difference between your acceptance and rejection by a college.
There's no set number of paragraphs for a college admission essay. It can differ from the conventional five-paragraph structure, depending on the instructions. Nevertheless, stick to the word count the college you're applying for specifies. Also, take the time to research and craft a winning essay, remembering that the admission officials will have a few minutes to read it.  
In most cases, colleges require students to write an essay with an introduction paragraph, up to three body paragraphs, and a conclusion paragraph.
How To Start An Application Essay
Starting an essay is the most challenging part. However, you can simplify this by doing the following:
Read and Understand the Instructions

The admission officials will assume you can't follow the university program's directions if you don't adhere to the admission essay's guidelines. Therefore, read and understand the admission essay instructions before you start writing. For instance, check the word or page limits for this paper. Also, know the rules to follow when organizing your submission.

Once you've read and understood the instructions, gather relevant notes and create an outline to help you organize and present your ideas. Decide the message to convey and then get into actual writing.

Write a Compelling Introduction

Focus on catching your reader's attention by writing a compelling introduction. The admission officials have a brief moment to review your essay. Therefore, make your introduction as vivid as possible to grasp their attention and make them interested in reading the entire paper. Ensure your introduction tells the reader about the essay and why they should read it.

One way to make the introduction compelling is to open with an interesting story or anecdote that shows the best aspects of your character or personality. Also, offer insights to help the readers know you better.

Support Your Ideas with Examples in the Body Paragraphs

After writing the introduction, move on to the body paragraphs by presenting and supporting ideas with suitable examples. Remember, this essay provides a glimpse into your mind and perception of the world. However, making it credible requires you to support your viewpoint with examples. Therefore, determine how your admission essay prompt or question relates to your qualities and take that angle when writing.

When you state an idea in the essay, ensure it's factual. Also, include specific examples or details to develop it. Examples from personal expenses or writing about your motivations will help the readers understand your personality better. For instance, if you tell the readers what you believe, explain how you developed that belief and support your statement with examples.

Always remember that a college admission essay is a story. Therefore, ensure it maintains the reader's interest in all paragraphs. You may think about the classic storytelling technique. Ensure your paper has an introduction, a body, a climax, and a clear conclusion. Your reader shouldn't struggle to follow the story.

End Your Admission Essay with a Takeaway

End your admission essay with a conclusion that wraps up everything. The last part should summarize the main points while reiterating what makes you a strong candidate for the learning institution. You can also demonstrate your excitement and enthusiasm for college. Most importantly, impress the admission officials with a memorable ending.

Remember, your story must pass a vital message. Therefore, restate what you promised to showcase or tell the audience. For instance, the classic Cinderella story conveys that kindness is always rewarding. So, ensure your conclusion gives the readers a takeaway or tells them what's crucial to you and why. Also, you can use a thought-provoking quote, a charming quote, or an original statement encapsulating your personality. Again, how you end your admission application essay may depend on the prompt or question from the college.
How To Structure Your College Admission Essay
A college admission essay can differ from the standard format of an English essay. That means writing a paper with five paragraphs, including the introduction and conclusion, is sometimes unnecessary. Different colleges have varying requirements. Here's a sample outline for a college admission essay.
Title

While a title is optional for a college application essay, you may include it since the admission officers will read it first. Also, it lets you capture their interest, reframe your writing, and demonstrate your personality. Here are tips to help you create an excellent admission essay title.

Be evocative: Ensure your essay title is humorous, retelling a particular moment in life, or playing on words. Most importantly, make it enjoyable to draw the reader's attention and excite them to read further.
Avoid being vague: Make your title engaging and easy to understand.

Introduction
Make your college admission essay impactful by starting with a compelling introduction. Use the starting point to introduce yourself and your paper's theme. Avoid being excessively wordy in the introduction. For instance, introduce the topic in the first sentence while ensuring the other sentences stick to the main point. Be efficient with words to impress the admission officials and finish the introduction with a thesis statement.
Body Paragraphs
Once you've captured the admission officials' attention in the introduction, proceed to the body, where you elaborate on the main ideas. The body of your college application essay is the centerpiece of the write-up. It supports your thesis statement with vital information. Therefore, share more details about personal achievements, experiences, and ideas.

Concentrate each paragraph on a single aspect, supporting it with vivid examples. Use the best samples or details to support your points. Also, ensure the body paragraphs tie into your essay's overall theme.

Conclusion
The conclusion is the last part of a college admission essay outline. Therefore, use it to summarize the personal statement and thesis by summarizing the main points. Also, restate what makes you a strong candidate for the learning institution. Moreover, be original by using different words to restate your paper's thesis. That way, you'll show the admission officials that you understand your message. Most importantly, show your excitement to join the college.
How To Choose A Good Topic And Theme For A College Admission Essay
Choosing a unique essay topic can prepare you for successful admission. That's why selecting a theme is among the vital tips on how to write college essays. An ideal title for a college admission essay is original, personal, and specific. Here's what makes a good college essay topic:
Uniqueness
A good theme or topic for a college admission essay is unique. It helps you demonstrate attributes that make you different or authentic. Therefore, choose a title that highlights your personality and unique experiences.
Challenges or Obstacles
An ideal college application essay title lets you share your challenges or obstacles. It enables you to tell the leaders how you overcame the challenges and the lessons you learned.
Problem-Solving Skills
A suitable theme for an admission essay enables you to showcase your problem-solving skills. It tells the readers how you've used your skills or talents to solve the problems you've faced and how you'll apply them to excel in your college education.
Extracurricular Experience
Choose a topic that lets you focus on crucial things you do outside the school, such as learning your family history, baking, or fandoms.
Examples Of College Admission Essay Topics
If you're struggling to craft or choose a good admission essay topic, the following ideas can help you:
Extracurricular Activities: Your essay prompt may list extracurricular activities you can discuss in your writing. In that case, vividly discuss a specific moment you engaged in an extracurricular activity. Reflect on how it changes your life outlook, goals, or character.
Your Role Model: If the prompt requires you to write about your role model, remember it is not about you. Therefore, provide a snapshot of the role model's influence on you and their cheerful character.
A Traumatic Experience: A traumatic experience is negative, but avoid seeming like you want to win sympathy points. Therefore, avoid dwelling on the negative. Instead, please describe how the experience changed you and how you overcame it. Tell your readers what you learned from the traumatic experience.
New Life Situation: Pick a specific new situation you've faced in life and tell the readers how you adapted or thrived in a new environment.
A suitable college admission essay topic lets you showcase qualities that make you the strongest applicant. Therefore, pick one you can comfortably work with to stand out as the most qualified competitor.  
Example Of A College Admission Essay
To get some inspo or a general idea of how to write a college admission essay, checkout the example below!
Essay Prompt: Briefly explain one of your work experiences

My Experience with the Big Game

As my siblings lace up their cleats for the big game, I find myself reaching for my trusty fanny pack and donning my sports medicine polo. While the excitement of the game unfolds on the field, I dive headfirst into the world of football discussions. Amidst the chatter, one phrase resonates with me more profoundly than any other: "Please don't tell the coach."

I am a dedicated medical assistant with a wealth of experience in high school sports and injury treatment. This seemingly innocuous phrase carries more weight for me than for my teammates. When I advise a player to take a break and sit out, they often ask whether I would follow my own guidance if I were in their shoes. In response, I frame the situation from the athlete's perspective.

Imagine this: The upcoming championship, and you have the chance to make a game-winning catch. However, there's a dilemma- scoring on more touchdown tonight might jeopardize your ability to contribute to that crucial moment. The player removes their helmet and allows me to initiate the concussion protocol, their eyes fixed on me as if I've just spoken a language only a mythical creature would understand.
How To Write A College Application Essay – Practical Tips
Writing a winning college application essay requires the student to respond effectively to the essay prompt. However, many students find addressing the question interestingly and focusing on making the paper stand out challenging. Moreover, this assignment requires the student to stick to the limited word count. Despite these challenges, the following tips can provide some college homework help and assist you in writing a superior college admission essay.
Address the Essay Prompt Directly
Most college admission essay prompts ask students to write about work or extracurricular experience. If you encounter such a prompt, focus on addressing experiences directly. Answer the questions without letting anything distract you. Also, ensure you create context for experiences to make the essay easy for your readers to follow and understand.
Be Specific
Avoid ambiguity or vagueness in your essay by using specific information. For instance, mention a volunteer program you joined or your favorite instructor's name. However, avoid overburdening the paper with minor details. At the same time, pepper in a few specifics to highlight what's vital to you academically and personally.
Tell a Story
Start the essay with a compelling hook, like a news article or story. Setting the stage for the experiences you want to share using anecdotes or carrying a crucial thematic element in the essay will enable you to captivate your audience while demonstrating your creativity.

Construct the essay in a way that maintains the reader's interest throughout. Ensure your story has a catchy introduction, body, climax, and conclusion. Most importantly, ensure the reader gets the main takeaway after reading your essay.

Put Yourself in the Reader's Shoes
The college admission officials will read hundreds of application essays. Applicants think they have unique reasons to apply to a specific school or personal experiences. Therefore, your essay must stand out to help you secure admission. Remember, the reader has probably read what you'll write about in your paper.

Nevertheless, you can strengthen your essay by putting yourself in the reader's shoes. Most of the time, it is more about how you say something rather than what you say. Please rework your paper if some descriptions sound typical or trite when reading it yourself.

For instance, your essay might bore the reader if it uses words like "eye-opening" and "life-changing" while describing a trip abroad to help people in developing countries build homes. Ideally, the experience may have been life-changing or eye-opening for you but not for the reader. Therefore, think about creating ways to share this idea to make your essay more interesting. And this will show the reader that you've put more effort into making your essay stand out.

You may describe your experience as transformative to make it sound less exaggerated and cliché. Additionally, show the readers rather than tell them to emphasize the lesson you learned and showcase your imagination.

Use the Inner Voice
Post-secondary institutions value authenticity because it shows your thinking quality. Therefore, avoid using popular ideas or phrases to shape your essay since other applicants have often used them. Instead, connect your inner voice or genuine beliefs to your ambitions, skills, and knowledge to show the readers how they will help you achieve your endeavors.
Be Authentic
If you've read newspaper articles, you've noticed how the writers' voices fade behind facts, making information about the authors disappear. Your college admission essay should do the opposite. Instead, it should help you make an impression. After reading your college application essay, the admission officer should say, "An actual person wrote this, somebody with depth and feelings." You can achieve this by fusing your personality and being vulnerable in the essay. So, be personable, honest, and truthful in your voice.
Be Exciting
Avoid acting like a know-it-all intellectual because that will make you exhausting to the reader. This approach is a significant turn-off for most college admission officers. Instead, be unique to ensure the admission officials notice you. For example, write like a strong-minded person. Use descriptive, beautiful language and mix it with casual language. Also, add emotions to your words to bring the essay to life.
Avoid Repetition
Writing an admission essay lets you express yourself. However, avoid repeating the points you've already shared in your resume because the admission committee has seen them. Instead, go deeper to tell the admission officials more about your personality. Tell them why you're a great candidate besides your grades. For instance, tell the readers what makes you a leader or why you're passionate about the college. Most importantly, show it!
Format Your Essay Correctly
You should know how to format a college admission essay before you start writing. Most institutions explain the formatting instructions for application essays. However, if the college you're applying to has not specified the formatting details, use a professional-looking, legible font. Please balance the points throughout the essay instead of cramming them in the introductory paragraph.

Also, state the essay prompt and answer in your introduction while using soothing margins. Additionally, be consistent with indentation, spacing, punctuation, and spelling. Read the essay requirements carefully and follow the provided citation rules, whether for MLA, APA, or Chicago style.
Get College Admission Essay Help
Now that you've known how to write a college admission essay, this task should be a breeze. Colleges and universities want to know the people applying to join them. Use this essay to tell the admission officers more about your personality and show them why you're the most qualified applicant for them to admit you to their institution.
If you need help you don't have to google "help with my homework" anymore. Our experts are here to provide any assistance you might need!