Crafting An Unforgettable College Essay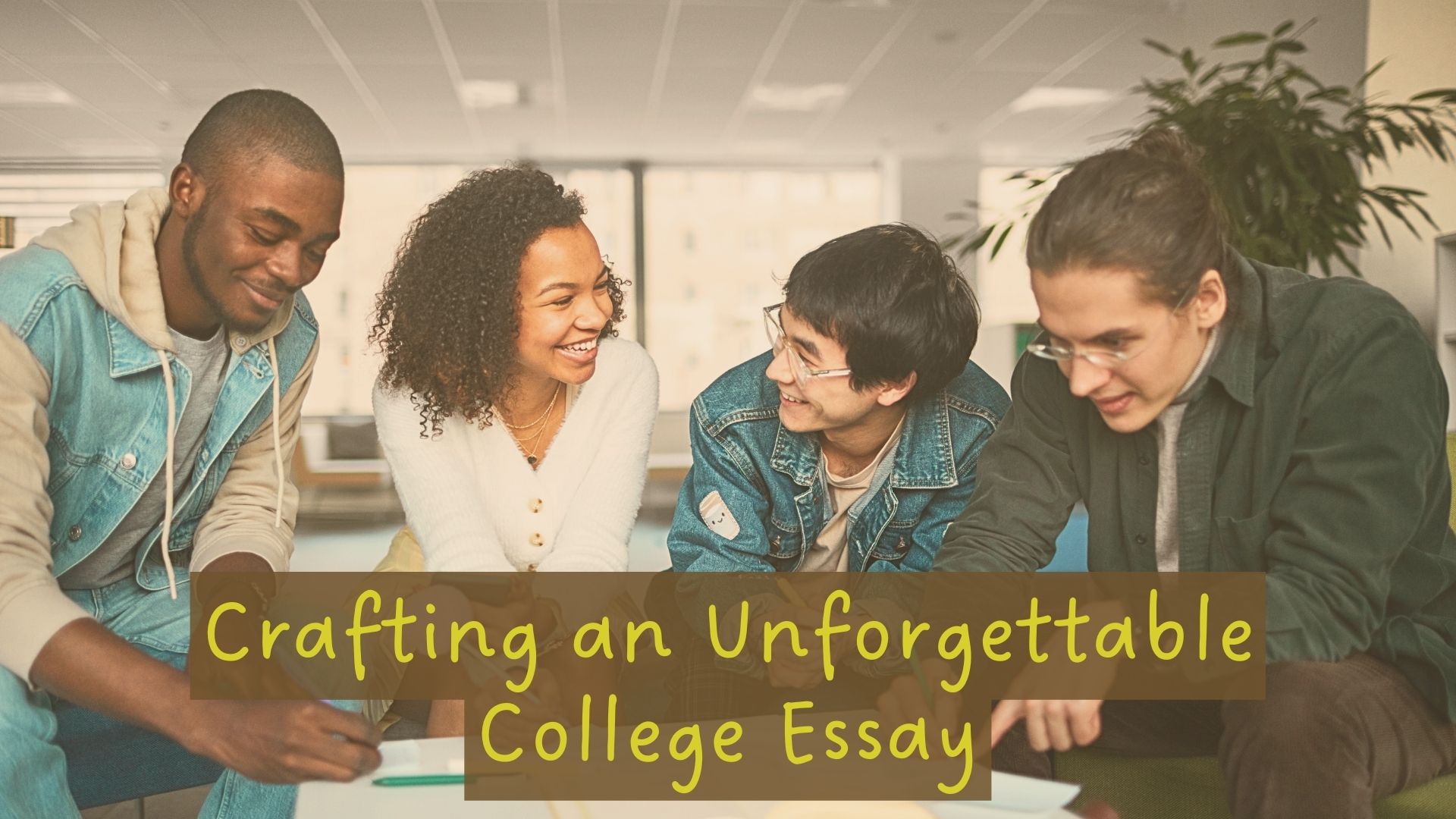 The college admissions process may be an exciting yet nerve-racking journey with decisions that will affect your future. Amidst transcripts, standardized tests, and recommendation letters, one document holds immense power: the college essay. A college essay is like a blank canvas on which you can vividly picture your essence, aspirations, and prospective contributions to the colorful university tapestry.
It takes both art and science to write an outstanding college essay. It's the alchemy of turning words into an admissions ticket to your dream college. Your college essay is your opportunity to demonstrate to admissions committees why you're more than a GPA or a test result and why you belong in their hallowed halls.
Writing a standout college essay can be challenging, but fear not! In this comprehensive guide, we will define and clarify what a college essay is, offer helpful suggestions, and explore the essential components that distinguish an outstanding essay. By the end of this post, you'll have the information and motivation to write a spectacular college essay to help you get into your dream institution.
What Is A College Essay?
A college essay is a personal essay of 650 words or less that offers an exciting story. It is similar to memoir or creative nonfiction, describing the author's experiences.
The college essay is primarily personal and creative. It is full of introspection, reflection, and self-awareness assertions. It can include academic writing characteristics like logical organization, thesis statements, and transition words. However, it is not an academic essay that you can condense into five paragraphs.
With a college essay, your goal is to become a storyteller while giving admissions officers a valuable peek into your world, perspective, and experiences.
Qualities Of A Standout College Essay
Now that you are familiar with the definition of a college essay, let's look at the essential characteristics that make an essay genuinely outstanding:
Authenticity

The foundation of an outstanding college essay is authenticity. Be sincere in your letter because admissions officers want to know the real you. You should share your honest feelings, opinions, and experiences.

However, avoid pretending to be someone you're not or writing what you believe the admissions committee wants to read. When you write authentically, your essay powerfully reflects your distinct personality and point of view.

Compelling Storytelling

A compelling story makes for an appealing college essay. It would help if you used the art of storytelling to lure in your readers. You may evoke powerful emotions in the reader with sensory details and well-crafted narratives. An engaging narrative can help your essay become memorable and relatable.

Reflective Depth

Extraordinary college essays go beyond simple descriptions. It explores the more profound levels of your experiences and ideas. Consider thinking back on your experiences, difficulties, and personal development.

You should also demonstrate how your experiences have shaped you and what you've learned. This reflective depth indicates self-awareness and gives your article more substance.

Clarity and Conciseness

It is essential to write clearly and concisely. Admissions officers read a lot of essays, so make sure your message is clear. Also, you should avoid using unnecessarily complex language or sentences. Get right to the point and communicate your thoughts. An essay that is well-structured and brief shows your ability to communicate effectively.
Why Do You Need A Unique Essay?
While the majority of your application highlights your academic accomplishments, your college admissions essay is your chance to explain who you are and why the university would benefit from having you.
With some universities making the SAT and ACTs optional, your college admissions essay could weigh even more than the average 25% of your application. Your college admissions essay may make or break your application, particularly for selective colleges where most students have outstanding grades, test scores, and extracurricular involvement.
How To Write A College Essay
Now that we know what a college essay is, let's look at how to write a college essay guaranteed for success. Here's an easy-to-follow guide to help you get started:
Understand The Prompts

Start by carefully reading and understanding the essay prompt provided by the institution or university. Choosing a prompt is common for students to get stuck, preventing them from starting their essays.

The essay prompts are not mandatory; they intend to encourage a creative thought process. Take note of any specific questions or themes they want you to address. Understanding the prompt is the first critical step in writing a relevant essay.

Brainstorm Ideas

You'll hear much about forbidden topics such as sports, death, and cancer, to mention a few, from "experts." Generic essays on these related topics are, in fact, a bad idea. Consider your life experiences, values, and goals. What distinguishes you from other applicants? Consider defining moments, problems you've overcome, or your passions and interests. These insights will serve as the framework for your essay.

Create An Engaging Introduction

A good introduction will grab your readers' attention from the beginning of your essay. You can use an intriguing quote or an anecdote to lure your readers in, and these are what make a good college essay. Ensure that you establish the tone for the rest of your essay in the introduction.

Develop A Clear Structure

Create a clear and coherent structure for your essay. A college essay typically includes an introduction, several body paragraphs, and a conclusion. Each paragraph should serve a specific purpose and add to the overall narrative of your writing.

Show, Don't Tell

It is advisable to refrain from reciting the facts of your life. Instead, move the reader between the lines to better comprehend you as a thinker. Colleges value diversity of thought in their classrooms. The essay is your chance to show off the aspect of diversity that people can find uniquely in you.

Be Deliberate In Your Presentation

Though there are occasions when complicated statements are required, it is advisable to err on the side of simplicity. This may be particularly true in a narrative that tells a story. Short, punchy sentences are effective when communicating emotionally charged messages.

Edit and Proofread

The editing process entails minor adjustments to a draft's structure and clarity. Editing usually comes with proofreading, which involves error checking. Additionally, consider having someone else proofread your work so they can find any remaining mistakes and offer constructive feedback.
What Should I Write My College Essay About?
Choosing a topic for your college essay can be an overwhelming task. To get some college homework help and assist you to answer the question, "what should I write my college essay about?" and narrow down your options, consider the following inquiries:
What significant life experiences have had a lasting impact on you?
What challenges have you overcome, and what lessons have you taken away from them?
What are your plans for the future, and how does this college fit into them?
What are your interests, passions, and hobbies, and how do they help to define who you are?
What impact have your family and cultural background had on your perspective on life?
Feel free to ask for support from your academic adviser or consult writing services if you need help to develop or contemplate how to write a good college essay. They can offer helpful advice and resources on what makes a good college essay to ensure your paper is of the most remarkable caliber.
Get College Essay Help Today!
Understanding how to write a college admission essay that is unique and memorable requires self-reflection, creativity, and excellent writing abilities. You can create a masterpiece that makes an impression on your readers by following the instructions in this guide and infusing your essay with honesty and gripping storytelling.
Also, remember that your unique experiences and perspectives are your most significant advantages in this endeavor. Don't hesitate to reach out to our group of experienced professionals for a custom, well-crafted college essay, or pay to get homework done. Embrace the opportunity to share your experience and make a lasting impression on the admissions committees. Good luck!