How To Write Glossary: Learn From Our Experts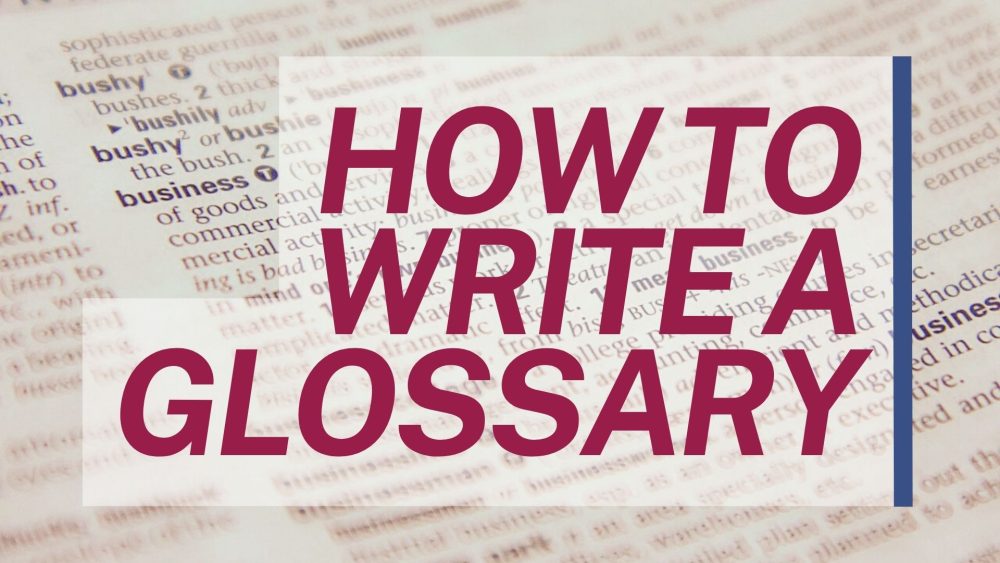 Want to learn how to write a glossary the right way? You have arrived at just the right place. Most students are struggling with the process of making a glossary correctly. Even if you know what it is and how you should do it, you should still take a look at our tips and advice. We will show you how to minimize the time it takes you to write the glossary.
Of course, we will also discuss the format and structure of a glossary of terms. A quick guide on how to make a glossary will be provided as well. If you are running out of time, we want you to be aware that making a glossary can take anywhere from 2 hours to a couple of days – depending of the complexity of your paper. Read this informative blog post right now to learn everything about the glossary and about how you can write one quickly.
What Is A Glossary?
Before we show you how to do a glossary, we must – of course – explain to you what it is. We will also be talking about the role of a glossary, but in the next section. So, what is a glossary?
Basically, it is a list of words (usually known as terms) with their respective definitions. The list is ordered alphabetically.
Why is the glossary there, you ask? Well, this list of terms and definitions is important for your readers who may not know what each technical term means. Instead of defining each and every term in the paper, you can simply define it in the glossary and keep your essay a lot more organized. Now, let's talk about the role of a good glossary of terms.
What Is A Glossary Used For?
So, what is a glossary used for? As we've mentioned above, the glossary is very important because it tells your readers what each term means. Of course, you won't have to explain each and every word in your paper. Instead, just explain the terms that you think your audience would not know about. Here are some of the key benefits of writing an excellent glossary of terms section for your paper:
The definitions are great for academic or technical works because they ensure your readers always know what you are talking about.
The glossary enables you to keep the length of your paper to a minimum. You don't have to define each term in the paper, which is great.
In case you are talking about some works of fiction, the glossary is there to explain terms that cannot be found anywhere else. Perhaps you've created a new word and need your readers to know what it means.
When writing a research paper, you will probably use dozens of technical terms. Each one of them should be defined in case your readers are not familiar with them.
A glossary makes it very easy for people to find your terms because they are all organized in alphabetical order.
In case you are translating something, you will soon realize that a translation glossary can be extremely important. It will help you maintain the consistency of the translation.
OK, but when might you want to use a glossary? Truth be told, not all academic papers need a glossary of terms. However, we think that term papers and research papers should usually contain one, especially if you are discussing a technical topic.
Remember that in case you are writing in more than one language, or for a foreign audience, your readers will greatly benefit from a glossary of terminology. It should contain your terms and their equivalents in other languages. This helps people who are not native English speakers to understand the terms you are using.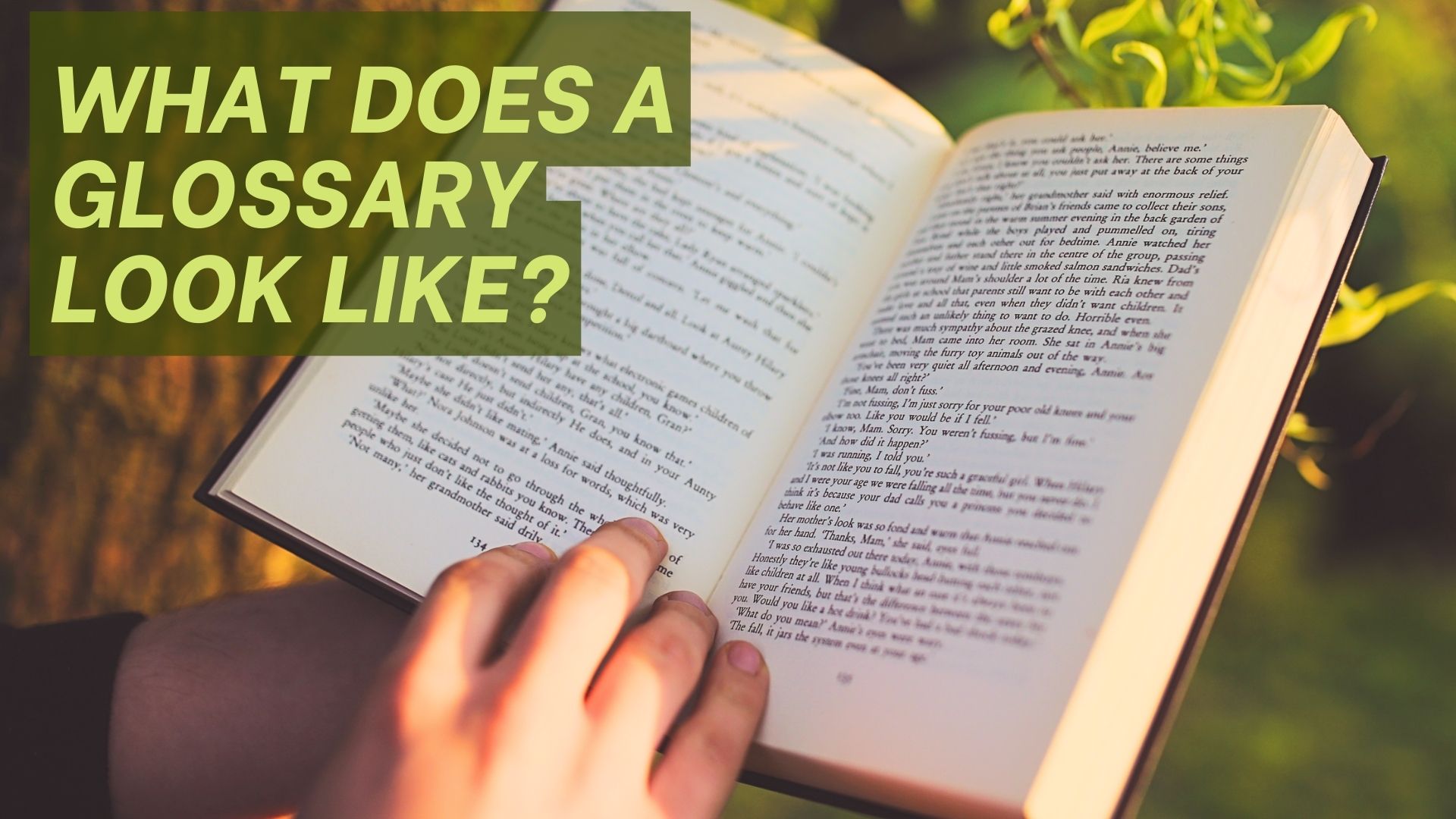 What Does A Glossary Look Like?
Now that you know what a glossary is and why it can be important, it's time to delve deeper into the subject. What does a glossary look like? The good news is that the glossary format is not at all difficult to understand. It is a list of words and their definitions. So, what does it look like? It looks like a list of words in alphabetic order. Now, because the glossary of terms format is so simple, you don't need to learn any kind of special techniques. You do, however, need to be able to succinctly define each term in a way that most readers can understand. Here is an example of how a simple glossary of terms may look like:
Access control: The means by which actions like viewing, writing, saving, or accessing a file can be restricted at the user level.

Biometric authentication: The use of biometric data to authenticate a user.

Confidential information: Information that is not designed for public use and that cannot be disclosed under the Public Records Act.

Data owner: The owner of the data on the local server (the user that created the data).

Local storage: The storage space that is physically located on the server (not in the cloud).

Password strength: The property of a password that makes it difficult to discover by guessing or malicious attacks.

Security incident management: A part of incident management that deals with the management of vulnerabilities and incidents of the system.
As you can see, you don't need to use numbered lists. Also, you are usually free to write the definition in any way you like. For instance, we have placed it next to each term. Some people prefer to write the term and the definition on two separate lines. There is no right or wrong way of making a glossary of terms, so you shouldn't worry about this too much.
Need a Good Homework Service?
We realize that you may not have enough time to write the glossary yourself. Don't worry too much about it. Our homework service is exactly what you need. We can not only help students with writing an essay, term paper, dissertation, thesis, or report; we can also help them write the glossaries. We know just how time-consuming these can be. Our homework helpers will quickly get them done so you don't have to waste your time. Getting to hire a nerd has never been simpler before!
Our pros have been helping high school, college and uni students for years, and we have never let any one of our customers down. We can help every student, anywhere in the world, impress his teachers or professors. And remember, our experts are all native English speakers. When working with us, you don't have to worry about spelling or grammar errors. Get research, writing and editing services from the most experienced academic writers on the Web. Get in touch with us!
FAQ
Now that you know everything about glossaries, you might have some more specific questions. Here are some popular ones:
How do you write a glossary example?
Start by identifying the critical term phrases related to your research topic. Then define the term, which should include an example or illustration. When writing a glossary example, you must meet the audience's needs. Note that the entries in the glossary are not for you but for the reader.
How is a glossary format?
The basic glossy formation should list the words alphabetically, define each word, and explain the meaning. When describing, use the most straightforward language possible. In addition, ensure that you keep the readers in mind so that you can use terminology they understand.
What should a glossary include?
A glossary should include the technical or specialized terms used in a document, essay, or book you have written. It should also include any acronyms or abbreviations that you have used. It can also include related terms like synonyms, and antonyms, of the terms. It should serve as a guide to help readers understand technical language.
OK, but is a glossary in alphabetical order?
Yes, as we have stated previously, all the terms in your glossary should be in alphabetical order. If you think about it, any other way of ordering the terms will make it difficult for your readers to find specific words. If you don't order your terms correctly, your professor will most likely penalize you, so don't even think about it.
How long should the definition of each term be?
To be honest, there are no set limits. As a rule of thumb, you should make sure that the definition explains the term fully. Don't try to make it as short as possible because your readers may not understand it. It goes without saying that you shouldn't delve into too many details either. A long, boring definition that also contains various examples does not belong in a correctly-written glossary.
Can you tell me where does a glossary go in a report?
Generally speaking, glossaries are included at the end of academic works. The glossary is a list of terms, most often technical in nature, that need to be explained. If you are writing a report, you should compile the list of terms and definitions, order it alphabetically and attach it to the end of your report.
Can your experts give me a glossary format example?
Of course we can. In fact, we can do much more than just give you a generic example. If you tell us what you need, or need help with homework, our experts can write the glossary for you in no time. This way, you will have a working example and can even use some parts of it in your own paper. All you have to do is get in touch with us and tell us when you need the glossary done.
Great, but what does a glossary do?
Most students don't really understand the importance or even the role of a glossary of terms. Let's make it clear why you should write one. As you can imagine, explaining each and every technical term in a research paper will not only confuse your readers but also make the paper unnecessarily long. The alternative is to use a glossary of terms and place it at the end of the paper. Every time a reader wants to see what a term means, he can quickly find its definition in the glossary. It's quick and extremely effective.
What can you tell me about the APA format glossary?
Glossaries are not written in a specific academic format like APA, MLA or Chicago. All of them basically look the same. What you are probably interested to learn is how to cite a glossary the right way. In APA format, you need to format your citation like this: John, D. (2022). Victorious. In G. & C. Merriam (Ed.), Merriam-Webster. Merriam-Webster. https://www.merriam-webster.com/dictionary/victorious
Can you include writing terminology in a glossary?
Of course you can. In fact, there are already several such glossaries on the Internet. Some of them are actually quite comprehensive. Don't hesitate to take a look at their terms if you want to find some definitions for your terms. Alternatively, contact us and we'll help you with original definitions and explanations for your terms right away.