Get better grades,
effortlessly.
Pay Someone To Do My Programming Homework
When it comes to programming, there's not a lot of wiggle room. Small mistakes can lead to big issues with your assignment, and as a result, teachers and professors tend to agree to work hard in these classes. However, thousands of students ask: "Can I pay someone to do my programming homework?" We offer help with programming homework provided by online professionals.
OK, but why would I let you do my programming homework for me? There are many reasons why students need help with their programming homework. Most of them simply don't know enough to do it themselves. Others have fallen ill and didn't manage to complete their school projects. And of course, there are many students who would simply prefer to spend their time doing something else (or just relaxing). The good news is that you can just pay for programming assignment assistance, sit back and relax. We'll handle everything for you.
When you buy a package from DoMyHomework123.com, you can rest assured that you will be put in touch with a very skilled and talented programmer. Whether you need assistance with certain aspects of your project, or if you need the entire program completed, don't hesitate to get our programming homework help.
Best Programming Homework Help With Free Edits
We are very confident here in our experts here at DoMyHomework123.com. We want you to be completely satisfied as a customer. That is why we offer you the opportunity to request any edits or changes that you feel might be necessary for the finished product. You can do this for up to 10 days after the time when the project is delivered to you.
We always urge the students who get help with programming assignment to double-check the work. If any part of it is not completely satisfactory, you may send it back to be corrected or adjusted in whatever ways you see fit. There will not be any additional charge for this service. We're sure you won't need to use this option as our writers are the best experts in programming and computer science. Here are some of the fields we can cover:
Platforms
Writing programs
Algorithms
Paradigms
Programming languages
Software
But isn't it dangerous to pay someone to do my programming homework? This depends on who you're hiring, of course. We would advise against trusting people you meet on social media, Craigslist or on shady websites. Our company guarantees your anonymity and safety. We will never reuse any part of your project for any other student. Moreover, everything we send to students is 100 percent written from scratch by our experts. In other words, you can rest assured knowing that everything will be original (even the comments in the code, of course).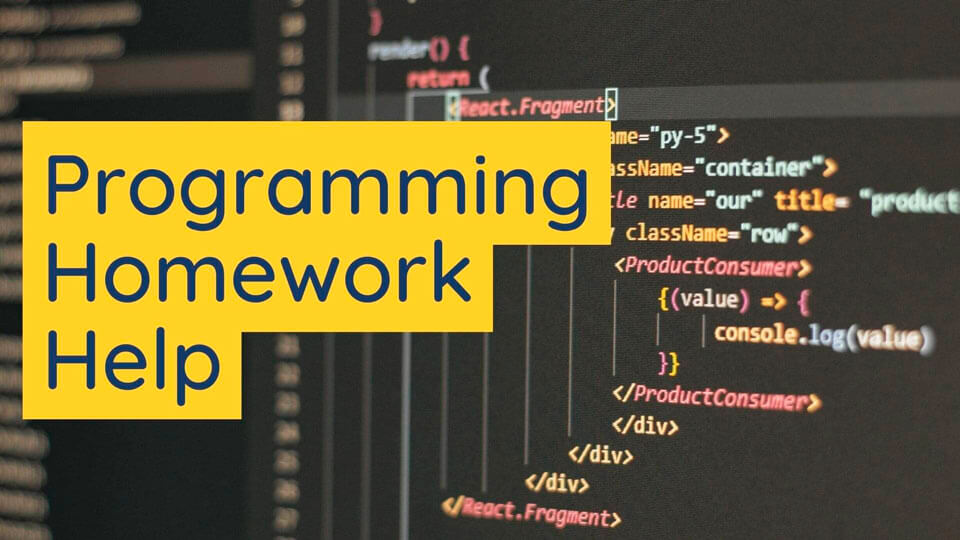 "When I Seek Help with Programming Homework, What Is the Procedure?"
When you ask us "do my programming homework," we're always happy to take responsibility on our shoulders. However, we would like to keep our customers involved throughout the entire process. So, here is what you can expect from our programming assignment help:
After perusing the available programmers, and seeing prior examples of their work, you can begin speaking to them individually to get a better feel for who you would like to work with.
Once you have chosen a professional, you can begin an open dialogue with that person. You are free to check-in, or ask questions at any time.
You will have an opportunity to discuss the assignment's direction with your programmer. This is a good opportunity for both of you to make absolutely sure you know where the project is going.
After this, we can get to work and do our best to impress you with our programming homework help. Diligent writing, properly researched sources, careful customer support, and timely delivery – that's what makes our company a perfect place to get help with programming homework.
But who will actually do my computer programming homework? This is a question we have been receiving a lot. Students are worried – and for good reason – that we will assign a novice programmer or computer engineer to their project. This is why we want to assure you that all of our computer programmers have years of coding (and even teaching) experience under their belts. In addition, they are all Master's and PhD degree holders. We do not work with freelancers or people without proven experience. Your coding homework (including all comments) will be completed by a seasoned professional.
Hire An Expert To Do Your Programming Homework
From the moment you contact us for programming homework help, we consider it as a journey that we walk together. You will have the peace of mind that you are assured of high grades. Here are other benefits to anticipate:
You can focus on building your skills in programming or other areas.
It will now be possible to complete other engagements that cannot be delayed.
It is a convenient time to see and learn from experts.
You can get some free time while our expert does your coding homework
You can get accurate programming homework answers to potential questions in your next test
You can improve your grades and, in turn, your GPA
So, if you'll do my programming project, I can improve my grades? Of course you can! Our programmers have years of experience, so there isn't a single thing your professor can ask of you that they can't do. You can get help with anything from code and algorithms to visual interfaces and databases. We provide students with complete programming homework help, no matter how difficult the requirements may be.
"Can You Assist Me To Do My Programming Homework?"
Many schools and universities offer free tutoring programs to students. Of course, availability is often an issue, especially towards midterms or finals. These tutors are often student volunteers, so they are unable to spend all of their time working with others – they have their own studies to see to. This creates problems for students who are actively seeking assistance but can't get it. That is why we offer to put you in touch with a program writer who can help you complete the assignments you are struggling with.
We have been rated as the best programming assignment help website on the Web for the past 5 years. We can help you polish your code, find errors or even find new ways to complete complex operations. Getting programming assignment help from us is most often better than getting it from your professor (as many of our customers have told us over the years). When it comes to getting help with programming homework, our programmers and computer engineers can help you with all of the following programming languages:
Java
JavaScript
Python
Ruby on Rails
SQL
R
Matlab
Groovy
C, C# and C++
Visual Basic
Swift
How quickly can you do my programming homework for me? We can start working on your project right away and get it done in as little as 3 hours (even during the night!). Send us a message here and let's discuss your project, budget, deadline and expectations!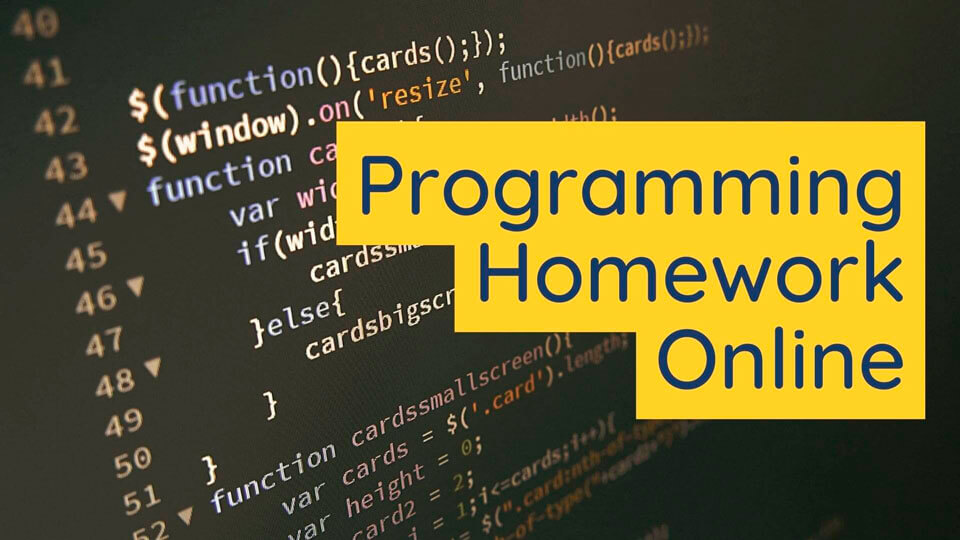 Can An Expert Do My Programming Homework Online?
Who can help do my programming homework? Maybe that's what you're wondering because you're stuck with a task whose deadline is almost elapsing. Our experienced programmer or tutor can assist you with complex assignments and projects. Alternatively, you can access online coding forums where experienced programmers provide free assistance or resources. You may also find pre-written code samples on various websites to provide essential guidance in developing your solution. Finally, if your school has a computer science department, they may have tutoring services that can help you with more complex questions about programming techniques and approaches. Whichever option you choose, a knowledgeable and experienced professional can guide you through your programming assignment. 
We have an expert ready to do your programming homework. Our experienced programmers know to complete your programming assignments quickly, professionally, and with top-notch quality. They will provide valuable insights into coding techniques and approaches that will help you solve complex programming problems. We guarantee our work is accurate, efficient, and error-free, so you don't have to worry about any mistakes in your final solution.
FAQ
How do I know that I need someone to do my programming homework? 
If you struggle to complete your programming assignment and feel that you need help, it's time to consider getting an expert to do the job. Programming is a complex and time-consuming task, and our experts can assist you in producing a quality solution. Contact us, and we'll help you with any job in this field. 
Who can do my computer programming homework?
Our professional programming tutors know to help you with any programming assignment. They have worked on various projects and can provide valuable insight into coding techniques and approaches that will help you solve complex problems faster. Our experts are available around-the-clock to assist you with your project.