133 Invitational Speech Topics for Top Students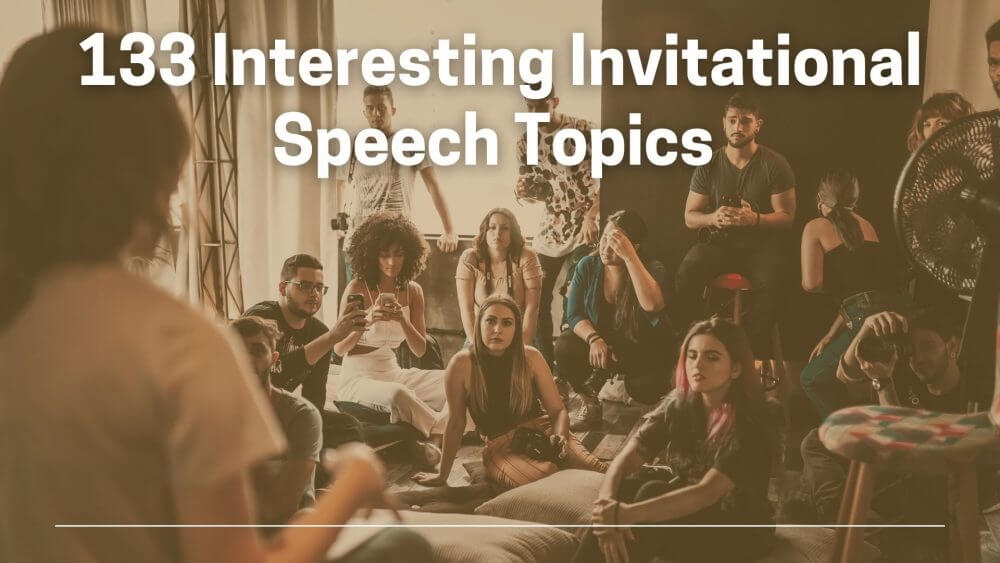 Invitational speech topics invite the audience for a discussion on a specific issue. When writing an invitational speech, your subject should ask the audience without convincing them to support your side. Thus, you use informative and persuasive speech principles. However, this write-up allows your audience to join in the public dialogue.
Essentially, you don't convince or persuade the audience to trust what you tell them wholeheartedly. Instead, you aim to deliver relevant messages, explore the key points, and show a particular issue. Thus, an invitational speech topic enables you to share ideas and viewpoints. But because this can seem like a challenging task, you need an interesting topic to capture your audience's attention. That way, you can develop strong arguments and gather adequate valid evidence to support your theory.
When selecting a topic, consider your positions and rough thoughts on the way you see things. That way, you can decide on what to write about and the stand to take. After that, you can explain your stance to your audience throughout the discussion of your arguments. And the best way to do this is by drafting an invitational speech outline to guide you through the writing process.
Also, make sure that your discussion favors your topic. That means selecting an interesting topic so that you can enjoy the entire research and writing process. Ideally, don't settle on a topic just because it's popular. Instead, select a topic you'll find interesting to research and work with to develop an exciting speech or you can use do my homework service. Here is a list of interesting invitational speech ideas.
Popular Invitational Speech Topics
Do you want to write a speech on a popular topic? In that case, this category comprises some of the best ideas to consider. Pick any title in this category, and then develop it into your speech.
Where to draw the line in terms of speech freedom
What are humanitarian campaigns about with regards to foreign aids
Cyberbullying is a new virtual world's reality
What are the reasons and results of censorship in the current century?
Ethical measures in border control
How the greenhouse effect can improve the world
Pros and cons of lowering the voting age
What are the dangers of water poisoning?
Is conserving wildlife the best way to save the planet?
Modern measures for fighting terrorism
Modern methods for preventing natural disasters
How to make humans less cruel during animal testing
New expectations and challenges in airline safety
How to minimize weapon use in the current world
How to save the planet from a climate change perspective
Main factors and reasons for conflicts in the developing world
The moral side of the genetic engineering phenomenon
Why the national interest should always stay above in terms of immigration reforms
How to prevent the horror of a new flu pandemic
How to avoid a disaster when dealing with nuclear power
Any of these topics can be a good title for a speech. However, take your time to research your subject and develop it with relevant information.
Good Invitational Speech Topics for College Students
Your educator might ask you to write this speech as part of your classwork assignment. In that case, consider these titles for your address.
How gym classes affect the students
Music regulation at school dances to prevent cursing
Students should learn proper nutrition in schools from the beginning to the end
Modern technology like tablets should replace books
Community service should be a high school graduation requirement for students
Every student should be fluent in at least one second-language
Attending a college has minimal bearing on your future success
Phones as distracters for students
Why schools should team learners about global religions
Textbooks' history- They don't tell the entire truth
Teachers should take tests on basic skills regularly to maintain certification
Single-sex public schools as the best option
College applications- Discussing the SAT Scores
Why hazing on campuses is problematic
Higher education as a success fundamental in modern life
Why schools should stop serving soda and French fries
Studying online prompt students to cheat
Why only college students should study classic literature
Why wearing a uniform should be mandatory for students
Attending trade schools should be required after acquiring a primary education
Exam scores don't indicate a learner's abilities
This category has some of the best invitational speech topics. Nevertheless, take your time to research and write about your title to develop a brilliant speech.
Controversial Topics for Invitational Speech
Selecting a controversial topic is lively. However, you need skills and experience in crowd control to develop your title. So, what are some good controversial topics for an invitational speech? Here are exciting ideas to explore.
Exposing children to social media is wrong
Coronavirus originated from bat meat
Most male audiences watch the news because of beautiful female anchors
Role models are the leading causes of frustrations among the young people
Copying makes a student lazy
A family can have a lady as the head too
Politics are not suitable for everyone
Watching too many action movies can cause societal violence
Parents should play a role in selecting marriage partners for their children
Lesbianism should be illegal
Schools should provide single-gender education
Students should be independent to choose their courses
Schools should not allow hairstyles
Schools should allow pregnant students to further their studies
Students shouldn't carry mobile phones in class
Academic performance should form the basis for the government's support for students
Every school needs a standard dress code
Schools should automatically dismiss students for cheating on exams
Students need sessions for teaching others on their favorite subjects
These topics will elicit varied reactions from the audience. However, they can help learners write excellent speeches.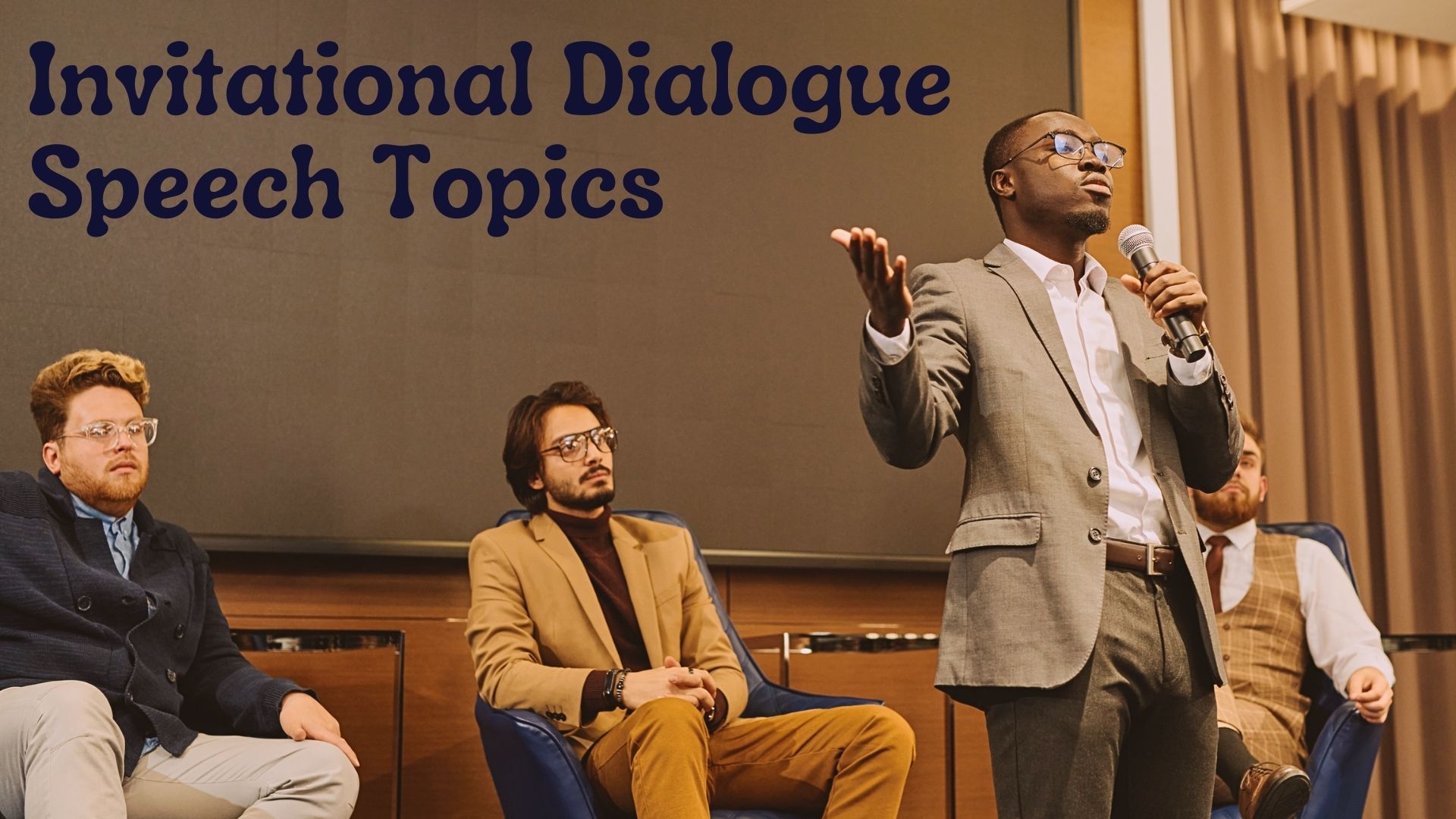 Brilliant Invitational Dialogue Speech Topics
Perhaps, you want to come up with the most impressive speech. If so, consider the following topic ideas.
Burning a flag is unacceptable
How a low age can affect the voting decision
How the increasing population is a threat to the available resources
Will conflicts in the African continent end any time soon?
How prepared is the world for coronavirus?
How effective is the government's preparedness for hurricanes?
How effective are the safety measures for airlines?
How suitable is genetic engineering for humans and animals?
Why is the arms trade continuing despite the current efforts to stop it?
Are humans the only beings responsible for global warming?
How to avoid panicking during hurricanes
Social media disasters during the virtual era
How to prevent overpopulation
How to save the young generation from drug addiction
How to make humans happier through welfare reforms
The developing countries' reality
Stem cell research- What are the ethical aspects?
Top aspects of virtual reality in the informational world
How to minimize human's cruelty during animal testing
Genetic engineering- What is the phenomenon's moral side?
These are good topics to write about if you want to come up with an impressive speech. However, take your time to research your preferred title to develop an exciting address or you can use homework writers.
Fun Invitational Speech Topics
Fun ideas can also be great topics to do for invitational speech. Here are some of the best titles to explore in this category.
Working from home increases the risk of obesity
Watching monkeys is a thrilling hobby
Copying homework is a common characteristic of college students
Wearing masks is increasing the crime rate
Men can be evil in their kitchens
Pregnant ladies can sleep a lot
Why only older men with big bellies play golf
Most women act classy and bossy when wearing trousers
Watching cartoons can make a person crazy and lazy
Wearing a mask can make you look like Zorro
Children benefit more than parents in a dual-parent household
Staying together for kids is wrong for couples
Why parents should stop forcing their dreams on children
Why couples should live together before marriage
Why married couples should have date nights
Rewards as the basis of discipline, not punishment
Why divorce doesn't always hurt children
Low-cost childcare- Is it good?
Why should never borrow or lend money to friends
Advantages and disadvantages of abstinence
These are great invitational speaking topics. However, learners should take their time to develop their chosen ideas into good pieces to impress educators.
Easy Invitational Speech Topics
Perhaps, you're looking for something easy to research and write about before presenting to an audience. In that case, pick an idea from this invitational speech topics list.
Having two children should be a worldwide rule
The world should illegalize smoking in public places
Abortion for incest and rape cases should be legal
Governments should punish buyers more than poachers
Governments should regulate cosmetic surgery
Less protection and equal punishment for celebrities when they break the law
Why pets are not better pets than dogs
Why an exotic animal is not a pet
Why humans have made pit bulls monsters
Animals don't have enough space in the zoos
The intelligence of dolphins
Humans should not cage birds
Why zoos hurt animals
Dogs as the best man's friend
Why people must respect human rights
Why the world doesn't need more prisons
Why you should visit your dentist more often
How to protect drinking water's quality
How to weed out dirty politicians
Medical marijuana is not a cure
A vegan diet is too extreme
Why drinking 2 liters of water daily is a myth
Why calcium won't make your teeth stronger
Keeping off weight is not as easy as losing it
Why fat is not that bad for you
Diet pills don't work
Negative implications of social media
Why paparazzi are stalkers
Why video games aren't that evil
Violence and sex on television can hurt your children
Why governments should strictly regulate children ads
Why romantic movies and soap operas set unrealistic standards
Why TV will eventually be something of the past
Students have many topics to choose from for their academic assignments. Perhaps, you're looking for invitational rhetoric speech topics. Maybe you need invitational speech examples. Well, the internet is awash with many resources with ideas and samples. You can also get professional writing help online. Nevertheless, choose a reliable resource to get the best assistance with your speech or you can use buy assignment online.
FAQ
What is an invitational speech?
An invitation speech aims to share unique ideas, values, and beliefs with the audience. The aim of the invitational speech is not to encourage the audience to join in a respectful dialogue by asking the audience to join in and give their ideas so you can explore various viewpoints on the subject.
Which topics are best for speech?
Some of the best topics for speech are; the dangers of water poisoning, natural methods that people can use to prevent natural disasters, ways that weapon use can be reduced worldwide, and studying online promoting students to cheat. Ensure that you find a topic that will interest the audience or something trending.
What is a good speech topic for school?
A good speech topic for school is humanity. Most people connect humanity to the act of helping and caring for others. However, some claim that humanity is not about serving humans but instead serving nature.  When choosing a topic for your speech, ensure it is something that you can speak confidently on.