Examity Cheating: Doing It The Right Way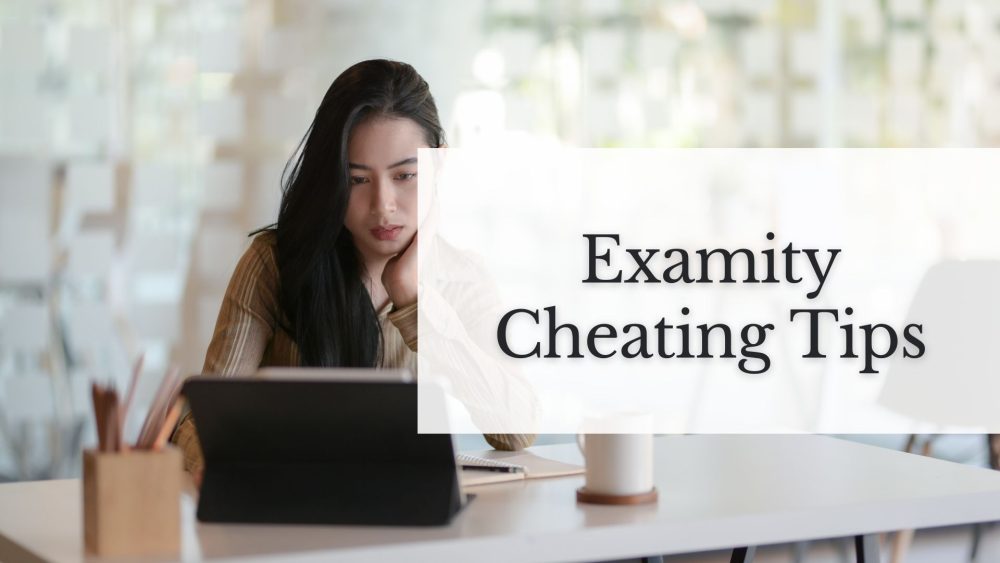 Examity is a third-party platform that you can use to conduct online tests. This platform helps to reduce cheating, improve online testing, and enhance remote tests. As a university student, it is important to familiarize yourself with the examity platform.
This article will guide you on what is examity, system requirements, examity rules, and how best to cheat on examity or use online exam helpers. Even though it is hard to cheat, you can do it. We will also offer the best advice on how to go about Examity and succeed.
What is Examity?
In simple terms, Examity is an examination platform. Examity partners with universities and colleges to provide online proctoring. The platform works as an intermediary between the students and the instructor. It also works as an invigilator during the test. Hence, no more worries about students cheating on exam.
When students become lazy, they normally want to cheat and not want to study or do college homework assignments. Hence as a professor, the examity platform can help to ensure a reduction in cheating. This is crucial when most online classes and examinations are being carried out of physical class.
Examity platform ensures all the examination rules compliance. Hence, that shouldn't be one of your worries. If there are any inappropriate acts, the report is sent to the instructor. It is a great platform that teachers can use to reduce exam cheats at school or home.
Hence, as a student, it is important to follow all the rules not to be a victim. However, cheating on examity can seem hard, but it is possible.
How Does Examity Work?
It offers proctored exams for colleges and universities that offer online studies and tests. Additionally, also independent examination bodies are making use of the examity.
To use the platforms, there is a need for an instructor or school registration. Hence, the school partners with the examity platform by creating a test schedule. Fortunately, it can be integrated with the learning management system.
Before the exam, a student is required to create a profile. The profile creation can be done through the school learning management system. Then on the registered courses, a student can access the examity link.
When the exam is about to start a student should log in a bit earlier. Unfortunately, whenever there is misconduct, the system notifies the instructor.
What Are The System Requirements For Examity?
For starters, you will need an ordinary computer. You can't use a mobile phone.
You will also need a webcam that will capture what you are doing behind the screen. If you were wondering "can examity see your screen", yes it can.
You will also need a microphone, in which in most modern computers it is present.
The internet connection must have a fast download speed.
Also, disable the browser's popup blocker and reduce the limit of browser plugins installed.
Examity Test Configuration
To use examity, configuration needs to be made by the school, college, university, examination board, or instructor.
First, the instructors must configure and pay for the examity package. They will then provide the way forward or you will see on your school's learning management system.
To use examity as a student, click on the examity link in the course menu.
Complete the online registration using your valid details.
Reserve the specific exam and time. Additionally, verify whether your computer meets all the requirements.
In case of any issues, you may consult. When the exam time reaches login 20mins before to ensure everything is functional or can you risk it?
How Does It Check For Cheating?
Examity checks for cheating through various measures like recording a video through your webcam, recording the audio, checking your movements, and seeing any unnecessary movement. Hence, here are some rules that you must abide by as a student.
It records your screen
Examity can easily see all the activities on your computer screen during the exam. Hence, you can't just open any tabs on the computer. As a student, you need to remain on the examity screen all through the proctored exam.
You are also not expected to minimize the test page or open another tab in the browser. If you do, it may seem like you are cheating. It checks everything on your screen after you sign up.
The recording can always be made available for the instructor. This is also to evaluate the test activity fully.
Controls functions on the computer
You must give examity permission to access some functionality on your computer. Hence, they can access screen recording, microphone, and webcam. Examity accesses your computer immediately after signing up. Hence, it will record all your movements and gestures during the exam. Also, try to make minimal noise while doing the exams – the audio gets recorded.
Monitors the websites you are on
Examity can also see all the websites that you are on. The proctor can be able to see the website you are visiting when you switch your screen. The website also says whenever you switch on a tab.
What Are Examity Rules?
There are some examity rules that you must abide by as a student to ensure the exam process is easy. There are simple rules, but if you don't abide by them it's going to lead to the cancellation of your exam.
Verify your Identity
Do the test in an isolated room.
Maintain eye contact with the webcam.
Your phone should not be in the test area.
Do not leave the test arena until the test ends.
Do not switch screens.
Do not screenshot your test screen
Have stable power to prevent the computer from shutting down.
Don't try to wear a headset during the exam.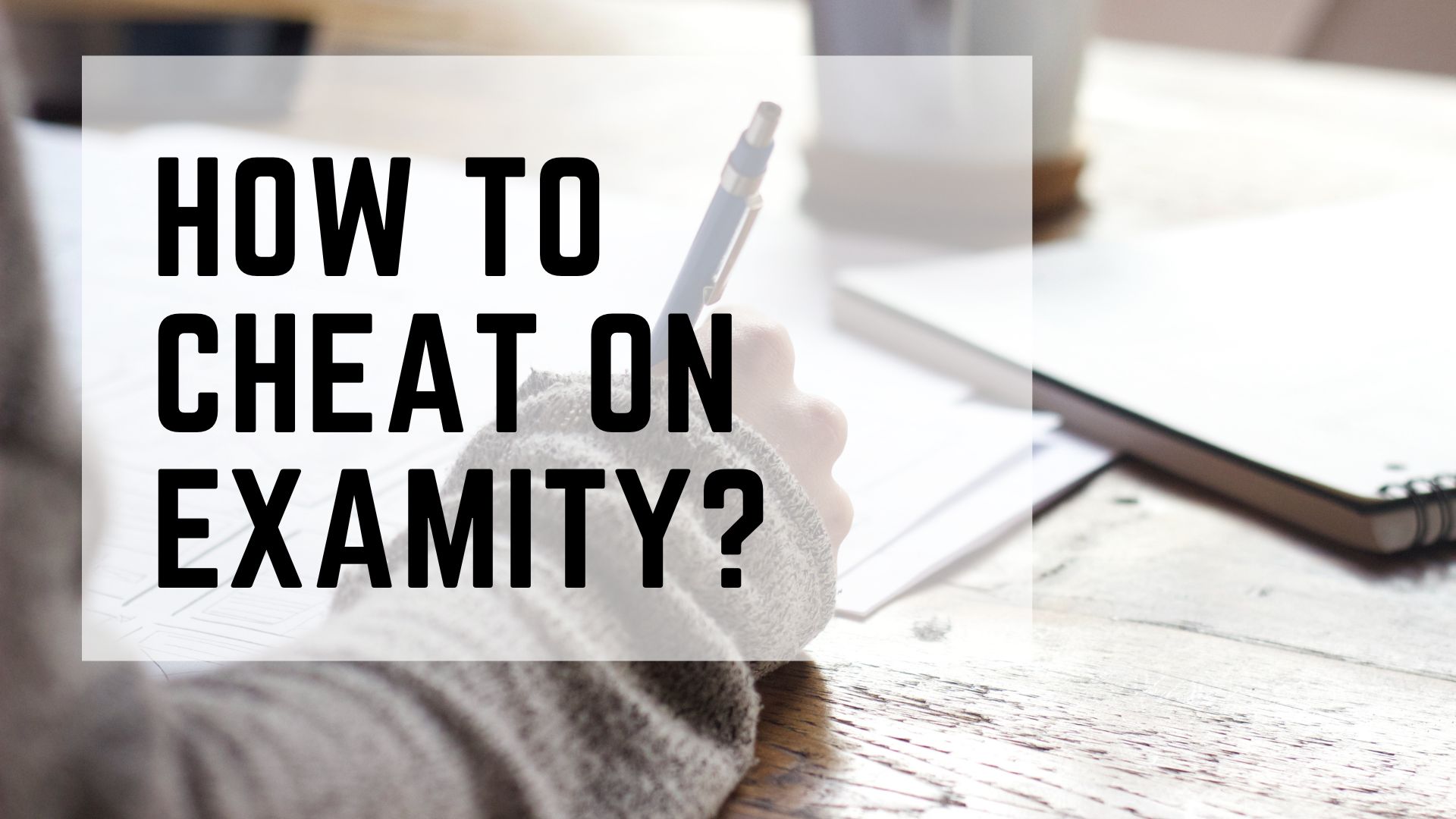 How To Cheat On Examity?
Examity is known to have some of the toughest rules but it is still easy to cheat. However, before attempting to cheat be careful and ready for any consequence that might come up.
We will show you to get around examity. These are some of the best examity cheating hacks:
1) Use a Virtual machine
For starters using a virtual machine has become the easiest way to cheat. A virtual machine is a computer within a computer. In the sense that you can have two operating systems running at the same time on the computer. They don't interfere with each other at all.
When you use a virtual machine when examity is checking it will only detect the hardware assigned to the operating system the test is in.
The first thing is to install a virtual machine, For instance, if you have Windows 10, you can install Windows XP. However, do proper research to ensure it works perfectly and doesn't disrupt you during the examity test.
2) Connect the external hardware to your system
Another trick is connecting external hardware to a system with the virtual machine. In this way, it requests which operating system to work with. In the process, you can pass the external hardware to the virtual machine. External hardware can be a keyboard or mouse.
During the test, when the examity system scans your computer, it won't detect anything. Hence, this external hardware can be used by the other friend who is helping you with the exam.
3) Ask a third party to take control of the test
After you have connected the external hardware like keyboard and mouse, a professional can help you do the test. While you are pretending to be taking the test, the web camera will only capture you. However, the other professional will be doing the test for you!
In the whole testing process, you need to act accordingly. As the student taking the exam, try to move your hands, gaze at the webcam, and avoid suspicion.
4) Minimize the operating system
The other way is to minimize the operating system. When you switch between the operating system, the Examity platform will not detect the switch. You can then continue the test on your operating system while you search for answers on the other without any detection.
5) Intercepting the video feed
This is a bit complex and requires putting reliable software between the webcam and anti-cheating system.
Hence, whenever the system tries to get the feed from the webcam it pulls the feed from the virtual webcam. The webcam can be controlled using certain software that can replace the actual video being captured by the webcam.
6) Use a pre-recorded video
Another way is using a pre-recorded video. This is because the software watches you through the webcam. So first, record a video of yourself using your computer, while you are doing something on the internet. However, ensure you don't do anything that you wouldn't do on your exam.
Moreover, ensure no one is passing in the background. The video should be a bit longer than the time you take an exam. However, be cautious that you won't be noted that you are using a video web file. The video file is the one that will be recorded.
7) Use a projector
If you can't use two monitors, why not think of using a projector to project the screen on the wall? If you are getting help from someone else, they will be able to view and show you the way forward.
However, ensure you are silent and not looking here and there to prevent being detected. Even if you can talk without your mouth moving, cover your microphone.
This is because the audio file will also be sent. However, ensure you don't find yourself looking at the projector as your eye movements can easily lead to the detection of malicious activities.
8) Wear dark shades
Alternatively, you can wear dark shade spectacles so that your eye movement cannot be detected. However, you will need to provide the doctor's slip for confirmation that you can't use a computer without the dark shades.
However, this is a method that can cause an alarm and your instructor may easily disqualify you from the exam. Be smart, don't make it too obvious!
9) Using an actual textbook
The other manual way is using your revision book. However, be attentive enough not be noted that you are stealing in the examination. The reading material should be between your keyboard and the screen.
You can even write short notes and read them through while doing the exam. However, always be cautious when opening pages in the book to prevent the audio from being recorded. You have to be smart in this case.
What To Get Help With Your Examity Test?
If you use any of these tricks you will be able to pass an examity exam. Consequently, you will be able to ace your test real fast. If you are curious about how to cheat with examity, make use of these tips and tricks.
However, even if you know how to cheat using examity, be cautious because of all the Examity rules that can make you fail. Taking bathroom breaks can also be termed as cheating, but if you have the urge to go to the toilet do it.
Are you looking for a trustworthy professional who can help you with your test? We have superb experts that can help you. You won't keep questioning yourself on who will "take my test"?
All the best in your examity test!
FAQ
Does Examity know if you cheat?
Yes, Examity can know that you are cheating. That's because the system has implemented measures like recording video through the webcam, recording audio, and checking for unnecessary movements. This measure makes cheating on Examity exams difficult.
Does Examity detect eye movement?
Yes, Examity detects eye movement and will flag if you move partially or out of the webcam frame during exams. In addition, it will also detect if you exhibit frequent and suspicious eye movement.
Does Examity monitor your screen?
Yes, as a way to combat cheating, Examity can see the activities on your screen. That means that any attempt to open a new tab when taking an exam will be detected.