Can Moodle Detect Cheating, Copy Pasting, or See Other Tabs?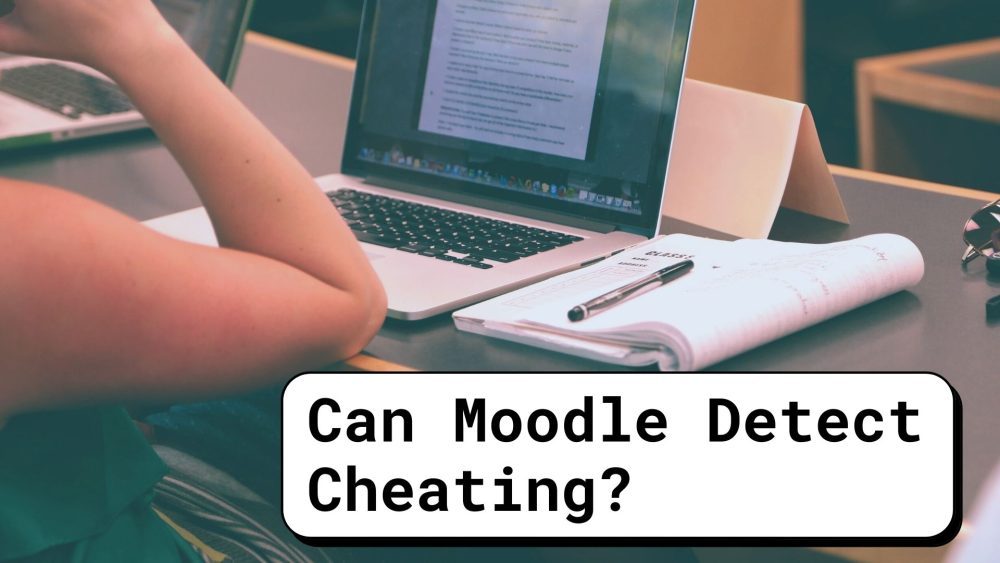 Moodle is one of the popular open-source learning management systems that some learning institutions use to manage online learning. COVID-19 pandemic, which forced more organizations to shift most operations online, made Moodle one of the must-have platforms for many learning organizations.
Because more learning and testing on the platform are done online, one common question that students keep asking is, "Can Moodle detect cheating?" Yes, Moodle can detect cheating in online classes and during exams through third-party online apps. Therefore, it is crucial to be extra careful because penalties for cheating might involve getting the exam canceled.
In this post, we take a closer look at Moodle to demonstrate how it detects cheating. However, this does not mean that you cannot cheat on Moodle. So, if you are not prepared well for the test or simply want to get better grades, keep reading because we are going to tell you how to cheat on Moodle quizzes for example , law homework without getting caught.
What is Moodle?
Moodle, a shortening for 'Modular Object-Oriented Dynamic Learning Environment, is a learning management system designed to help schools offer an interactive online learning environment for trainers and learners. As a learning platform, your professor can upload lectures (videos, audios, texts, and many more formats) and lectures. You should also expect different types of tests, including:
Multiple-choice tests.
Essays.
Short-answer questions.
Selecting missing words quizzes.
True or false tests.
Matching tests.
Calculated multiple-choice tests.
Like other learning platforms, you might be wondering, "Can online courses detect cheating?" or "Does Moodle check for plagiarism?" As we are going to demonstrate shortly, Moody can detect when you are cheating if you are not careful about the method of choice. This is why you should consider using assignment writing services.
How Does Moodle Work?
Moodle works on the basis of courses, with each having a separate section. Each course also comes with its own tests, gradebook, and space for sharing files. To engage students, each teacher has his/her own profile for creating course units, deleting unwanted units, setting quizzes, and gradebook.
When creating tests, the lecturer fills the quiz shells with questions and also generates a list of answers. If the quiz is a multiple choice type, one answer is correct, while the others are not. Then, he sets the starting and stopping times for the test.
There are two things to note here; the teacher has the answers to the tests and quizzes, and Moodle tracks cheating using third-party apps. So, if you are thinking of cheating Moodle, it better be a foolproof way to avoid getting caught.
Can Moodle Track Cheating?
Yes, Moodle tracks cheating using a number of apps and plugins, such as Turnitin and picks log attempts, which signal the teacher that something is wrong. Here is a detailed account of how Moodle tracks cheating.
Applying Plagiarism ScannersOne of the common methods of cheating in school is plagiarism, which is using other people's ideas and content as if they are yours. Turnitin is a very strong app designed to help check grammatical errors and plagiarism. It is particularly effective in detecting duplicate content, the main reason why Moodle likes it.Turnitin is integrated into Moodle's testing system and is used to show when a student copies work from a source and directly presents it in his/her homework. Turnitin scans student's work against millions of other published work to ensure it is original.Works that fall short of integrity indicate that the student used crude methods to do the assignment. Any form of similarity in your work is likely to raise questions on the quality of work, prompting the teacher professor to look closely. The best way to avoid getting into trouble is learning how to avoid plagiarism or asking an expert to do the assignment on your behalf.
Using Proctoring ToolsIf you are doing proctored exams on Moodle, proctored apps can be used to monitor a number of things, including webcam, audio input, and computer desktop. Once the data is gathered, it is transferred to a proctoring service for processing to determine whether you actually engaged in cheating.Before you can start a proctored exam, you are required to start by installing a proctoring app on your PC. The webcam scans the desk and entire examination room and will monitor it throughout the exam period. Although proctoring apps work best in well-designed exam rooms, they are still effective when used in home settings.
Using Lockdown BrowserLockdown Browser is another application that is used to help to prevent cheating. It is designed to try and identify possible cheating behavior, such as looking on the phone or other computer during tests. Then, the program provides ratings as the student completes the exams, indicating the likeliness of actions that are questionable. You might be required to retake the exam, or a more severe penalty served if proved that you were cheating.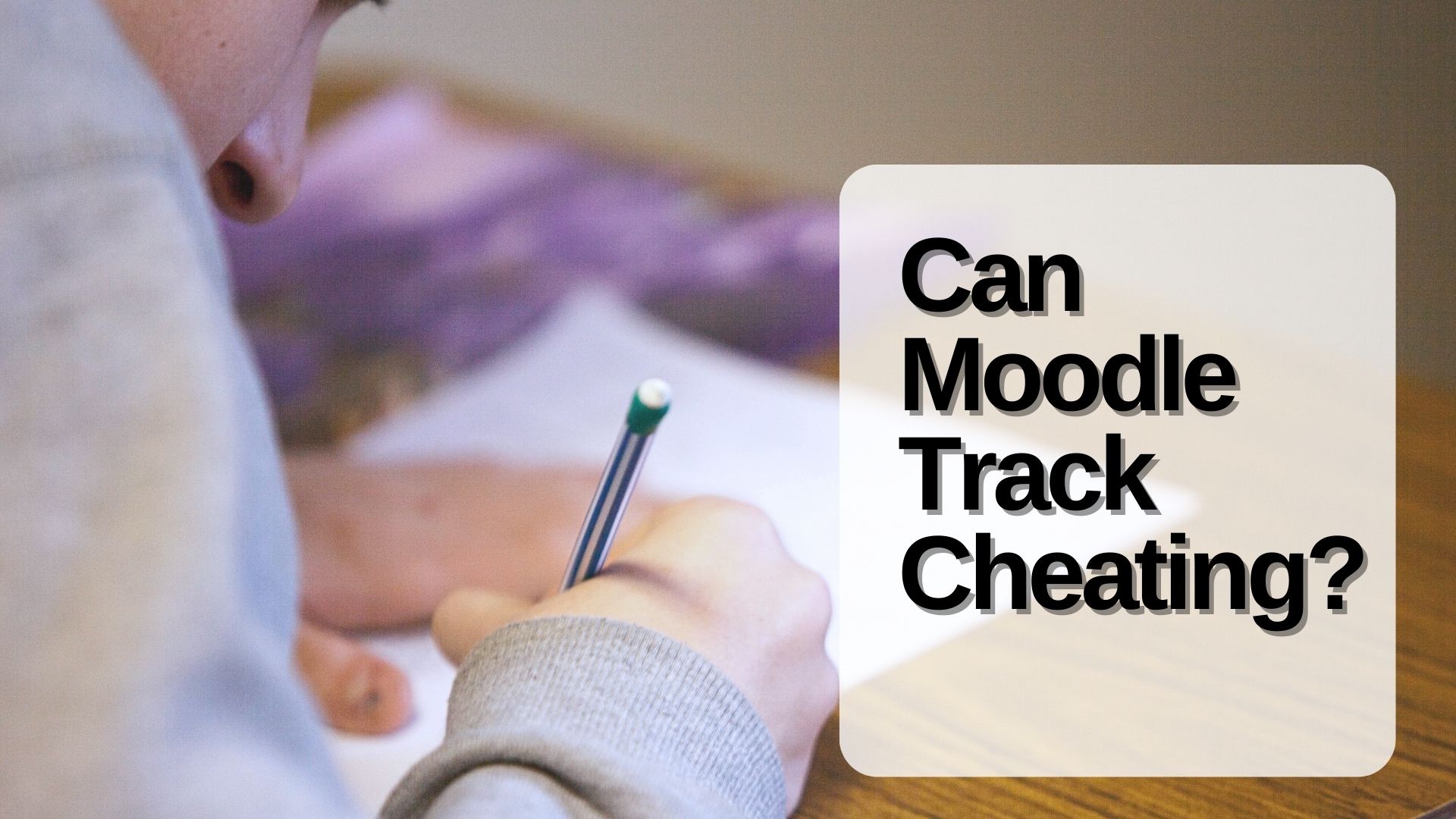 Moodle Test Cheating Detection: How Does It Work?
Moodle is an excellent platform for detecting cheating in quizzes and tests or for do my college homework. Well, it does this using a number of platforms, such as lockdown browser, that helps to prevent learners from actions such as accessing other tabs during exams. It also prevents the student from accessing other programs on the same computer when doing quizzes or exams.
Another mode of Moodle quiz cheating detection is proctoring. As we mentioned earlier, the proctor apps monitor the exam environment and note anything considered suspicious. However, the program only works when it is installed correctly on a computer that meets the set requirements. For example, most proctoring programs work with internet speeds of more than 2MBS. The same way ALEKS, another highly revered online learning platform, prevents cheating, Moodle also maintains tabs on quizzes and exams timing and irregularities.
Can Moodle Tell if You Switch Apps or Tabs?
Moodle platform alone is not able to tell if you are switching tabs, but it does that through third-party programs. In most cases, Moodle relies on proctoring programs to monitor the computer a student uses to do the exam or tests. So, how exactly do the programs work?
First, you are required to install a testing browser that monitors the opened tabs and immediately raises a red flag if it detects activities that are suspicious. One such testing browser is the Respondus Browser. Remember that in most learning institutions, switching tabs is considered an examination irregularity. If you are noted, the exam is canceled and you are awarded zero marks.
Can Moodle Platform Detect Copy and Paste?
Yes, Moodle can detect copying and pasting. To do this, it uses other programs and plugins integrated into its platform. Copy and paste scanners, such as Turnitin, CopyCheck, and PlagScanner, will easily note and give a report on content similarity in percentages.
Although the programs are embedded into the Moodle platform, it will be impossible to use them when doing an exam because you cannot open multiple tabs. This means that to avoid getting penalized, you need to be extra careful by writing every sentence correctly to ensure the work is original.
Moodle Tracking Student Activity: What Are Its Limitations?
Next, we are going to look at how to cheat on the Moodle, but first, here are the limitations of the platform. Indeed, you can exploit them to cheat on the platform, although it might still be risky.
By relying on similarity detecting apps, such as Turnitin, students can still cheat by paraphrasing the content they get online. Indeed, a lot of students do this and get away without being detected.
When your lecturer uses Moodle quiz cheating detection programs that detect tabs change, it does not bar screen sharing. Therefore, one might still be able to share the screen with another person, perhaps in a different room, to make the calculations and relay answers.
How to Cheat on Moodle Quizzes
Now that we have looked at the ways that Moodle detects cheating, the main question at this point is, "Can you cheat without getting detected? Well, there are three main methods that you can use, hack the Moodle platform to get answers, use the course materials, or work with university assignment writing services. Let us look at each of them:
Using College Course Materials to Cheat
If you are really smart, it might be possible to use the course materials to cheat on Moodle. To use this method, here is what you need to do:
Get all relevant lecture materials because they are likely to have the information that will be asked in the exam.
Prepare one document, either Microsoft Word or PDF, with all the details.
Split the screen into two halves with the exam in one and the open document in the other. This means that you will be able to access the document with different materials without opening new tabs.
When you get a tough question, search the entire document using keyboard shortcuts, such as CTRL-F, to pull out the section with the information. Then, fill the question correctly and repeat the process in the next question.
Note that this method will only work on some questions, but not all of them. Therefore, it will be good to be adequately prepared to handle the questions that might be impossible to address by referring to the lecture materials.
How to Hack Moodle
When preparing Moodle questions, your professor also prepares a list of answers, which might make one think of a shortcut for getting them. This means hacking the Moodle system to get a list of answers. Unlike other methods of cheating the Moodle system, trying to hack it will be an extremely risky and near impossible undertaking. In most cases, the hacks can be traced to you, and it is likely to attract both academic penalty and criminal charges. Therefore, this is not a route that is a worthy undertaking.
Use Professional Writing Help
One thing that you will appreciate about Moodle is that it is being upgraded progressively to make it easier to identify and deter cheating. Therefore, you are likely to find most of the strategies used for cheating on the system becoming ineffective with time. This leaves you with only one reliable and trusted method of cheating the system – using an online university assignment writing service.
Unlike other methods, which come with a high probability of failure, using custom writing services means that a human expert is there to assist you. If the test is dealing with calculations, the expert solves it using the correct method to arrive at the right answer. It is like having your professor work on the assignment for you. Below are some of the main advantages of using professional writing help to handle your assignment on Moodle:
Only experts in your area handle the assignment: To guarantee you top grades in your assignments, only expert writers in your field of study handle your paper. So, if it is computer science, only an IT professional will do the assignment or test.
The writing professionals can handle even tasks with tight deadlines: In addition to being professionals in your area, the writers are also pretty fast and will be able to complete even the tasks with tight deadlines. So, there is no need to worry even if the task is late.
The expert writers give guarantees for top marks: You know what? Expert writers have handled a lot of similar tasks on Moodle, and no question is too tough for them. Therefore, they guarantee you one thing – top grades in your tests, quizzes, or other assignments.
The writing service is cheap: This is perhaps the most important of all the benefits. The primary goal of starting the assignment help service is to ensure that every student coming to us can get the assistance he/she needs. This is why the services are cheap for all to afford.
These are only a few of the benefits to expect for using professional writers; it can be way longer. Now, we will tell you the simple process of getting our professionals to assist you.
Decide to seek help from a professional writing service for Moodle exam cheating. Make sure to reach the service about a day or two before the test starts and provide details about the subject and login info. If you can, send the materials from your lecturer and other useful resources.
You are paired with a professional in your area of study. These experts are Ph.D. holders, and you can count on them for top grades because of their deep understanding of the subject.
Our experts will log in to your account and take the test for you. We have a way of protecting your identity, and you are guaranteed top grades. If you are worried about getting detected, log into the account and send the quizzes to the expert. Then, the expert will get you the right answers in seconds.
Submit the right answers and get the top grades. Congratulations!
If you are a student who uses Moodle, tough tests and assignments cause a lot of stress. Even though Moodle uses advanced apps to detect cheating, you can rely on our cheat sheet above for the best cheating tips. Particularly, you should work with our professionals for assurance of top grades.
FAQ
Does Moodle track your activity?
Yes, Moodle lets teachers track detailed reports about the student's actions and behavior. Some of the information that it tracks are:
Login times
Course access
Assignment submission
Forum Participation
Quiz attempted
Does Moodle record your screen?
Note Moodle is not able to capture the user's screen. The Moodle Proctoring tool (MCQ) only captures your picture through the webcam to identify the person taking the quiz. This system will capture your picture and screenshot it automatically in 30 seconds intervals.
Does Moodle track IP addresses?
Yes, Moodle can track anyone accessing the site's IP address. The purpose of accessing this information is to use it to monitor site usage, troubleshoot technical issues, and investigate any security concerns. They also use it to expose those cheating on their exams by having someone else take it.