100 Best Literary Research Paper Topics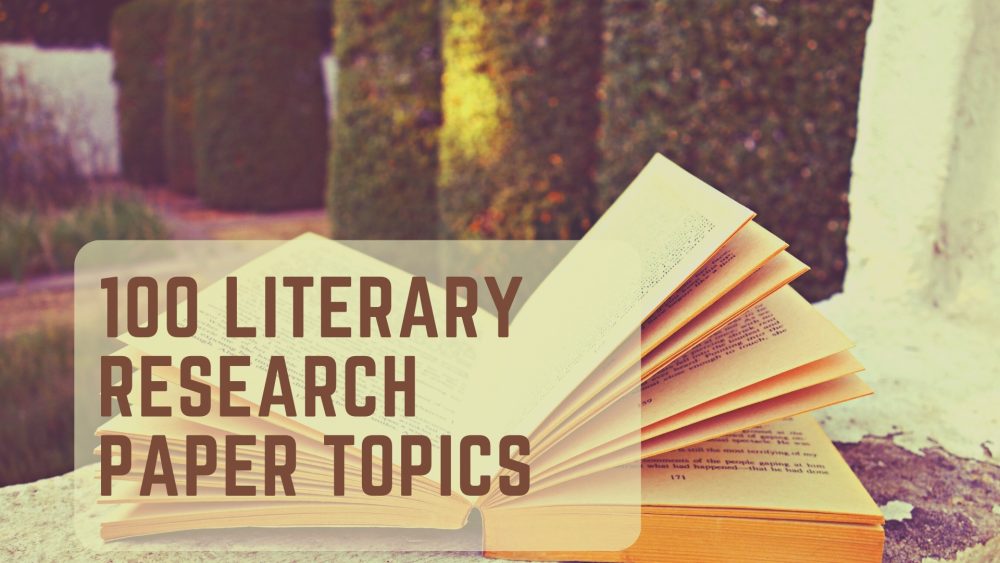 Literary research paper topics require students to demonstrate their understanding of the literature work they have studied. Essentially, literature courses are about reading and writing about what has been read. In some cases, comprehending what a student has read is not easy. That means writing essays or papers on literary topics can even be harder.
Nevertheless, writing a literary paper or essay can be easy if you know how to go about it. So, before we list different literary topics for research paper or essay, let go through the basic rules to have in mind when completing this task.

Tips for Writing on Literary Research Paper Topics
When writing on English literature topics, our assignment helpers advise to remember these basic rules to make the task easier.
Follow the right format when writing your literary paper or essay.
Include quotes in your writing and remember to add their exact location when referring to a work of literature.
Avoid borrowing arguments from analytical papers or literary essays or even quoting them directly.
Always remember that literature research topics and their fine details are important. However, you must demonstrate a strong understanding of the topic and fine details to come up with a great paper or essay. And when you choose British or American literature research paper topics, show your understanding of the setting or context. And, your introduction should be straightforward, the body should be well defined, and your conclusion should be comprehensive.
17th and 18th Century Topics in Literature
Shifting of the political and social climate in the 17th and 18th centuries was accompanied by a new form of fiction. With the introduction of the novel, new writers that used it to commentate the world obliquely emerged. They used literary strategies like metaphor and plot, dramatic devices and interior monologues to express ideas. Here are examples of literary analysis topics for the works of the 17th and 18th centuries.
Paradise lost and falling from grace- A look into the seventeenth-century redemption poetry.
Milton & the Bible
Genesis myth & the popular seventeenth-century literature
Los, love, and geographical imagination in John Donne poetry
The first explorers of literature- How literary imagination was shaped by the discoveries of the 17th century
Fielding and his novel "Tom Jones".
Nature visions- The 18th-century poetical imagination and Wordsworth
History of the novel
Interiority and interiors in the 18th-century novel
The aesthetic problem and Samuel Taylor Coleridge
How the novel future was shaped by Paradise Lost
The female voice- Depiction of girls as women in the 17th-century fiction
Why and how fiction artifices were exposed by Laurence Sterne
19th Century Literary Essay Topics
The 19th century English literature was responding to pastoral fall and rising of the industry. It reflected the drastic changes in Britain at this time. As such, this is the section with some of the best British literature essay topics. The poetry and novels of this time celebrated a new culture while morning the past ways of life. Here are some of the 19th-century topics for literary analysis.
Love and loss in the poems of Thomas Hardy 1912-13.
Love and communication in Robert and Elizabeth Barrett Browning poetry
Buried life recovery- Visionary aspiration in Matthew Arnold poetry
Religious doubt and George Eliot
The metaphysical tradition and Bulwer Lytton
Mystic and naturalist- Discovering where Richard Jefferies got inspiration from
Simple life search- The 19th-century rustic writing
How important costumes were in Dickens' work?
Studying the provincial life- Trollope work after Austen
Violence and sex in sensation fiction
Macro and micro- Understanding the Bleak House and The Old Curiosity Shop power
How religious imagination changed in the 19th century
Effects of politics on literature in the 19th century
How gender was represented in the gothic novel
Heritage and Ruskin
How the Victorian family meaning changed in the wake of the Gaskell
The emergence of realism in the 19th-century literature
Romance reading- How the novel was redefined by the Bronte sisters
The anticipation of Science Fiction by Frankenstein

20th Century Literature Topics
Significant philosophical and aesthetic shifts defined the 20th-century era. This era is characterized by some of the best literary works. After poetry and prose boundaries were disrupted, a new form of expression, the verse, and fiction were available to the 20th-century writers. Here are some of the best research topics in English literature of this time.
Visionary closure in the 20th-century novel
Heaving into Uncreated Space- D.H Lawrence following Hardy
Poetic syntax and W.H Auden
Understanding the War- New poetic form and Ivor Gurney
Water imagery in Virginia Woolf works
Seamus Heaney and Ted Hughes- Studying contrast and similarity
Can anything more be found? – The Wasteland and T.S Eliot
Space and Time in The Island of Dr. Moreau and The Time Machine
Dare to break the convention- Sylvia Plath's tragedy
Aldous Huxley- Searching for the 'Other'
Ian McEwan- Studying identity and character
Discuss the concept of being in Milan Kundera's work
Early modernism and Freud
Kipling's India
Jewish writing and Bernard Malamud
Form experiments- Twentieth century and Joyce
Fantasy and magic in Robert Louis Stevenson's work
Travel writing and Jack Kerouac
Studying differences and similarities between postmodernism and modernism
How the novel was almost destroyed by postmodernism
How fiction artifices were exposed by John Barth in Lost in the Funhouse
Interdisciplinary Literary Analysis Essay Topics
Literature has intersected with other study areas. Such study fields include philosophy, religion, architecture, art, sociology, politics, and history. Literary analysis research paper topics in this category require writers to do more than just place literature in another discipline's context.
Interdisciplinary research provides insights into the themes, context, and techniques of texts that cannot be understood using literary disciplinary tools alone. Here are examples of interdisciplinary literary debate topics.
The modern novel and psychology
Architecture in Thomas Hardy's work
The 19th-century novel and science
Space-age interpretation- The 21st-century literature
The 19th-century poetic imagination and astronomy
Why philosophy is important to literature
Crossing disciplinary boundaries- Archaeology and English literature
How political relations have changed in the novel since 1900
The modern novel and psychology
Self-seeking: Psychology in 21st-century literature
The evolutionary narrative and Darwin
How history is important in deciphering modern literature
Mass distribution and print culture- How do they affect the Renaissance literature?
Sister Arts- Modern painting and literature
Poststructuralist language views and postmodern text

Interesting Literature Topics for Children
Authors of children's literature use humor and imagination. They also use tradition dynamically and sensitively. Consequently, both the British and American literature research topics for children may require a writer to include imagery and complex themes in their work.
This literature can speak to children and adults on separate but intersecting and complementary levels. As such, this kind of work becomes a great source of literary analysis paper topics. Here are some of the best literary argument topics in this category.
Discuss the best children's novels from 1900
Fabulous beasts- Discuss imagery in Tolkien and J.K Rowling
Discovering Wonderland- Visionary insight and narrative technique in Robert Louis Stevenson's work
Searching for Utopia in children's Island Stories
The illustration significance and Beatrix Potter
Animals and their importance in children's literature
Importance of humor in children's literature
Fairytale meaning and Hans Christian Anderson
The young artist development and Lucy Maud Montgomery
The sublime, the ridiculous, and Roald Dahl
The adventure story and Enid Blyton
Historical analysis of the children's literature origin
How important names are in children's literature
How to help kids learn using storybooks
How to read to under-five children: Developing relationships and imaginations
Books the Victorians read for their kids
The social contexts and importance of reading for children
How young adult literature represents disability
Place and Identity World Literature Research Topics
Place and identity themes are very common in different literary genres and periods. That's because authors need landscapes for inspiration, as well as, to develop and contextualize their characters. Some of the best literary journalism topics belong to this category. You can also find great poetry topics in this section. Here are examples of place and identity topics.
Travel writing in the 20th-century
Narrative, nature, and verse since 1900
Why place matters to a Romantic poet
Thomas Hardy and the Wessex
How city living portrayal has changed since 1900
Lake District as the setting for poems in the 18th century
The Africa narrative- Desert writing
The Sussex Landscape and D.H Lawrence
The Sea and Dylan Thomas
John Fowles at the Lyme Regis
The beach as a change site in literature
The settler nationhood and the wilderness in North American poetry
Nowhere citizens- Globalization and dislocation after 9/11 fiction
'Westward Ho!' and Charles Kingsley
Students have many options to choose from whether they need British literature research paper topics or American literature topics. We also advise you to learn how to write a book review.
FAQ
What is a good literary topic for a research paper?
A good literary topic is one you can write about and demonstrate a strong understanding of fine details on the subject. It should also be engaging to the audience and something you can relate to – to convince them easily.
What are literary topics?
Literary topics are writings that the author identifies a theme or a big idea from a text or a book they have read. The author then offers an analytic, interpretive, and critical literacy of how the work should be interpreted.
How to choose a topic for a literary research paper?
The best way to choose a topic for your literary research is through extensive research. Also, you can compare and contrast the choices of different authors or characteristics or choose a reading from a social, political, or economic context.