Get better grades,
effortlessly.
MyProgrammingLab Answers From Top-Notch Experts
Does your lecturer use MyProgramingLab, and the questions or quizzes appear challenging? Is the deadline of your tests and assignments tight, and you are wondering, "How do I get the right MyProgrammingLab answers C++?" or "How do I reset answers in MyProgrammingLab?" No matter how tough the tasks appear, we have all Pearson my programming lab solutions for every student.
What is MyProgrammingLab Assignment?
MyProgrammingLab is an online learning platform designed to make training and learning programming in college easy and interactive. The program covers different areas and types of programming, from C++ to Java, and targets helping students grasp the logic, syntax, and semantics of programming.
As with any other learning platform, you should also expect to get assignments as you continue with the course. These assignments have to be done and the right MyProgrammingLab answers provided. So, what type of questions should you anticipate?
The goal of MyProgrammingLab is to support a student to be a top-notch professional, and one way of doing this is by testing him/her with different assignments. The types of questions to anticipate mainly depend on your lecturer. Therefore, it is prudent to be prepared to handle all questions, including free-response, fill-in blank spaces, and multiple-choice types, among others, and get the right my programming lab answers. This requires strictly following the right process to solve every problem.
MyProgrammingLab Test Questions and Answers
MyProgrammingLab has become the most preferred learning platform by lecturers because it is very effective in helping students to progressively learn programming languages. Most students find getting my programming lab solutions a challenge because the questions are really tough and require a deep understanding of the subject. This is why you should practice with different questions and see whether you can get the right MyProgrammingLab python answers. To do this, here are some of the common questions on MyProgrammingLab:
Assume that month is an int variable whose value is 1 or 2 or 3 or 5 … or 11 or 12. Write an expression whose value is "jan" or "feb" or "mar" or "apr" or "may" or "jun" or "jul" or "aug" or "sep" or "oct" or "nov" or "dec" based on the value of month. (So, if the value of month were 4 then the value of the expression would be "apr".).
((month==1)?"jan":
((month==2)?"feb": ((month==3)?"mar":
((month==4)?"apr": ((month==5)?"may":
((month==6)?"jun": ((month==7)?"jul":
((month==8)?"aug":
((month==9)?"sep":
((month==10)?"oct":
((month==11)?"nov":
((month==12)?"dec":
"invalid"))))))))))))
At this point, we need to emphasize that there is no shortcut for getting the right MyProgrammingLab answers Java, C++ or other languages. The only way to get the answers is by following the right procedures to solve every question. This is why you should consider working with an expert writing help who have been successful in helping other students.
At DoMyHomework123, our professionals solve every question by following the right procedure. Even if the test is timed, all that you need to do is tell us to "take my test online." We can handle even the toughest programming questions and get the right my programming lab java answers for you.
How to Get Test Answers Online on Your Own: A Step-by-Step Guide
When your lecturer issues the question prompts for programming assignments on MyProgrammingLab, and you want to do it on your own, how do you go about it? Here are the main steps to follow. First, you need to register for an account at MyProgrammingLab to get the login credentials. Then follow the following steps on how to get MyProgrammingLab answers:
Step One: Login to Your MyProgrammingLab Account
When you visit the MyProgrammingLab website, use your login details to get access to your account and user interface. This will allow you to navigate to every part of the account. For example, you can access the course learning materials, answers to questions that you get wrong, and grading. So, you might want to start by getting familiar with the user interface and interact more with different icons.
At the top, you will get a welcome message with your name and the course. On the left, you will see the name of the module and the chapter you are handling. More chapters will be added as you continue with the program. In the demonstration below, you can see up to chapter eight: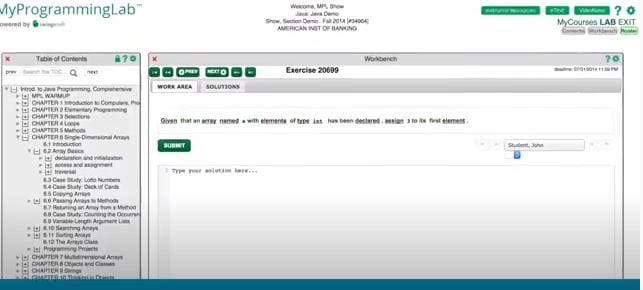 Step Two: Open Questions Listed for Each Chapter
To access the different questions, quizzes or assignments, click on any of the chapters. Indeed, it will reveal a number of things; the chapter materials that you can use to learn more about the module and the main questions that you need to answer. So, click one of them to reveal the details of the question, work on it, and provide answers on the box. Make sure to note the deadline of the assignment and have it done on time to avoid penalties or failure.

Once you provide the answers to a question, click the submit icon, and MyProgrammingLab will immediately tell you if it is right or wrong. If you are wrong, you can try several times until you get it right. Once the due date of the assignment is over, the system reveals the right answers to the question you attempted and failed. This will be a great moment to find out what went wrong and further build your skills in programming.
For open-ended questions, the answers are more interactive. In the example below, you are required to type my programming lab solutions in the answer box provided. That is the answer which will be used to grade your work. So, it will be a good idea to start by learning more about the respective programming topic and grasp all the concepts. See the demonstration below:

Step Three: Use Video Notes to Learn More and Answer the Questions Correctly
On the top right-hand section, you have additional resources that you can use to learn more about the respective programming module. The notes with interactive models are classified in line with the respective chapter of the programming module for you to follow easily. This can be an excellent point for you to build more skills or gather information to get answers to the respective question right. See the demonstration below:
When answering the questions on MyProgrammingLab, ensure the codes are types correctly and follow in the right order so that they are easily recognized.
Use Professional Help At DoMyHomework123
As you can see, getting it right with programming at MyProgrammingLab can be pretty challenging. However, you do not need to give up if things are tough. Instead, you should ask a professional at DoMyHomework123 to do the task for you. Then, use the time to focus on other pressing tasks and learning more about programming.
Experts at DoMyHomework123 are the best in programming and can handle all types of questions on MyProgrammingLab with ease. So, even if the assignment that looks so tough is very close to the deadline, there is no need to attempt it on your own and risk failing. Instead, just visit us and ask our experts to "take my test online." Our services are also cheap. Why get content with low or failing grades when a professional who is willing to help you pass with flying colours is only a click away?"