Get better grades,
effortlessly.
Getting the Right IXL Answers Simple and Fast!
Are the questions on IXL platform challenging to you? Are you worried that you might fail your IXL assignments? If the answer to one or both of these questions is "yes," you have a reason to smile because we have the right method of getting correct IXL answers. No matter why completing the assignment appears challenging; using an expert to handle the quiz might be all that you need. There is no need for stress at all!
What is IXL Assignment?
To make learning easier, convenient, and fun, people are turning to digital platforms. One of the most popular learning platforms is IXL.
IXL is a subscription-based learning site designed for K-12. It is developed to offer personalized learning for math, language arts, social studies, and sciences. IXL assignments are tasks, such as quizzes and tests, which are provided by teachers for students to solve and provide the right answers.
The goal of IXL is to help students build their skills in their respective subjects. To know how you are progressing, teachers set questions and expect you to provide the right IXL solutions. As you prepare to handle the assignments, expect all types of questions, from open-ended to multiple-choice types. The secret to passing with flying colors at IXL is being able to handle all of them and get the right IXL answers for teachers.
IXL Tests and Answers
When they start using IXL, most students indicate that the assignments are very challenging. This brings us to the main question, "How do you get the right answers to all IXL problems?" Well, there are a number of things you can do, such as attending all classes and using the course materials. Another awesome method of how to get IXL answers is practicing with sample questions. Here are some sample questions that have been featured in IXL assignments regularly. So, attempt them and see whether you can get the right answers.
Question:
Find the error with subject-verb agreement. Select the incorrect verb and type it correctly.
The United States and Brazil is home to a large number of katydid species, nocturnal insects related to grasshoppers and crickets.
Answer:
The United States and Brazil ARE home to a large number of katydid species, nocturnal insects related to grasshoppers and crickets.
When two or more subjects of the sentence are joined by the conjunction 'and' that makes them a plural subject. In this case 'the United States' and 'Brazil' are joined by 'and', meaning that they should be followed by the plural 'are' and not singular 'is'.
We must also indicate that using an answer cheat might also work effectively for you. However, you need to start by learning how to cheat at IXL to avoid getting detected. One thing that you need to appreciate is that using IXL answer key is a bad idea because only your teacher has the IXL answer sheet. These keys rarely work, and you are likely to get the wrong IXL math answers and a lot of disappointments.
Instead of looking for keys that will not work, you should get a professional to help with IXL math cheats. To get the right IXL geometry answers, experts follow the right strategies for solving every problem. Even if IXL is not fun, you are sure of getting the best grades.
A Step-by-Step Guide to Answer IXL Assignment Questions
When students are issued with assignments on IXL platform, the expectation of the trainer is they will handle them on their own. So, are you ready to handle the assignment and get the right IXL answers language arts, math, science or social studies? If you are new to the platform, here is a step by step guide that you can use to work on the assignments and get answers to IXL problems:
TO access your account, start by selecting the district IXL website on your browser. For the purpose of this demonstration, the district is Abilene, Texas, and the website is ABILENEISD. Navigate to the icon For Students and click it to get the RapidIdentity login portal. When you click the Login icon at the bottom, a new page requiring you to key your six-digit ID number and password will appear. Finally, click Go to access the main programs under RapidIdentity.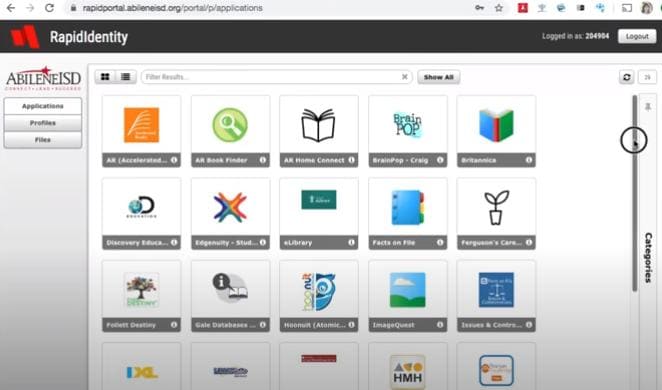 This page reveals many programs that you have access to. Notice IXL is one of the listed programs.
Login to IXL Portal to Access Your Dashboard
Identify IXL on the programs listed on Step One, and click it to access your dashboard. Note that the logins that you used at RapidIdentity in Step One should be the same for IXL. Once successfully logged in, you should have an interface like the one below: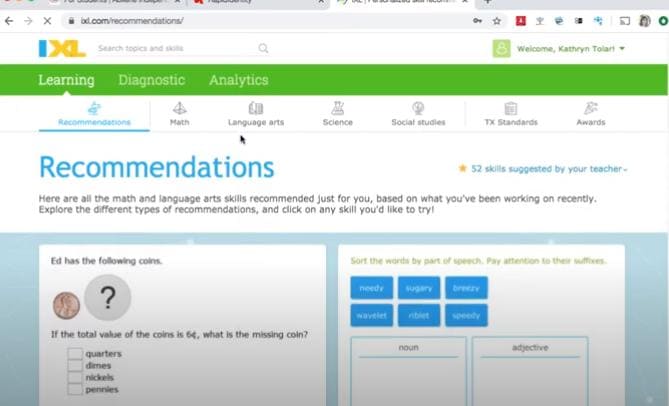 At the top, you can see the main subjects supported by IXL, including math, science, language arts and social studies. If you scroll down, the program also provides recommendations for students depending on their levels and skills. For example, you can get some questions recommended for IXL math 7th grade.
Select Your Subject to Access the Assignments
When you click one of the subjects, such as Math, at the top of the main IXL dashboard, it will open a list of the topics based on different grades. So, check the ones that your teacher has starred and follow one after the other. Check the demonstration below.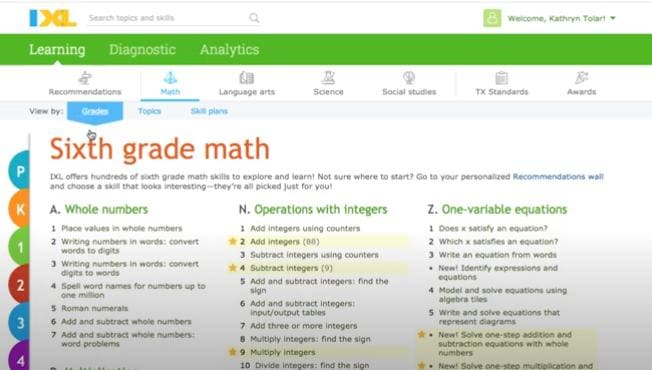 Go ahead and open one of them to reveal more details, including the assignments and respective questions that you should answer. You can also access the questions by clicking the icon Skills Suggested by Your Teacher on the main platform.
Work on every problem and ensure to provide the right answers. Because we selected the math subject, here is a sample question on Volume. In such a case, make sure to provide the answer in the box provided.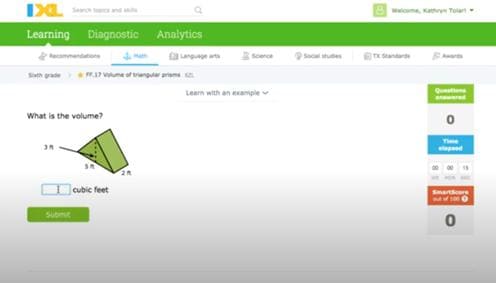 When you provide the answer to every question and click Submit and a report on the performance will appear on the right side immediately. This is important to help you understand the progress.
How to Get Test Answers Online from a Professional
In this post, we have provided a full guide on how to handle the assignments on IXL. However, it will be a good idea to seek writing help from experts if the process still looks difficult. It can be challenging because of tight deadlines or tough topics. With our experts, the focus is to ensure that every question is done using the right formula to arrive at the right answers.
Another advantage of using expert writers is that they have all the experience and skills needed to solve all problems. Even if you have other engagements, such as a part-time job, or a party to attend, it is possible to enjoy every moment because of our assurance for top grades.
Students also love working with our expert writers because the services are cheap. Our goal is to ensure that every student who comes to us can afford the services. So, visit our site at DoMyHomework123 and tell our expert writers to "take my test online," and they will be very glad to help. Placing orders on our site is also easy because there is always a professional waiting to help. Why settle for a failing or standard grade when an expert willing to help is only a click away?